32 rescued 2 months after boat capsized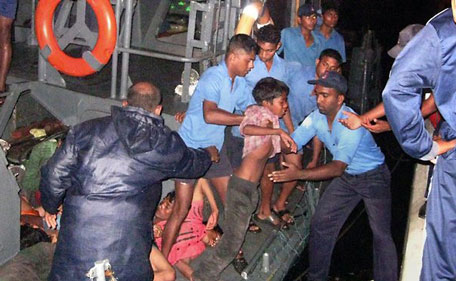 Sri Lankan navy rescued 32 Burmese who were missing for over 2 months after their boat capsized mid sea.

The Myanmar nationals were heading towards Australia when their wooden boat gave way off Sri Lanka's coast, local police said on Sunday.

According to Mowbima, 98 persons perished in the boat and were thrown to the sea while 32 them were rescued by the Sri Lankan Navy.

The passengers on the boat were plucked to safety by Sri Lanka's navy on Saturday.

They were rushed to hospital to be treated for dehydration and starvation, police said in a statement, Ceylon Today reported.

It said that 32 people were rescued, although initial reports from naval units had suggested there were 38.

Sri Lankan police said the rescued passengers claimed they were in a group of 130 and were travelling to Australia.

The passengers were on three boats just over two months ago. However, the fate of others was unknown.

Saturday's rescue was the second in less than two weeks.

Earlier this month, the navy rescued 138 Bangladeshi and Myanmar nationals from a sinking boat. One passenger was found dead.

Local police officials said it was unclear if those identified as Myanmar nationals were Rohingyas.

According to UN reports Rohingyas are one of the world's most persecuted groups -- who had fled the country.


Ethnic clashes between Rohingya and Rakhine communities in Myanmar's resulted in the minority community seeking refuge

Thailand's navy blocked over 200 Rohingyas from entering the kingdom late last month.

As per the new Thai policy the refugees will be given food and water but barred from landing.


Follow Emirates 24|7 on Google News.