Achala's family for legal action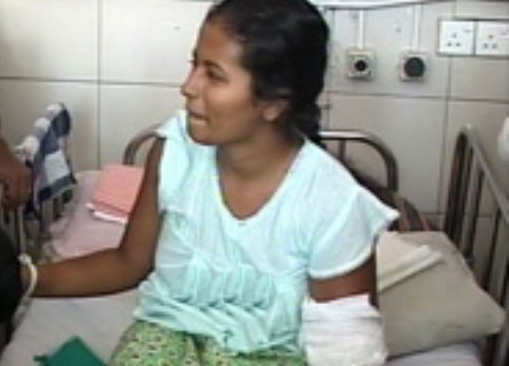 The brother of Achala Priyadharshani, whose hand had been amputated due to alleged medical negligence, said that his family was prepared to support a legal action that could possibly be taken by the Colombo Law Faculty Students Union.
WK Darshana Tilekaratne, the victim's brother, said that his family did not have the means to take legal action against those responsible for the amputation of his sister's left arm.
He told Daily Mirror that his family had not received the report on the special investigation carried out to probe the medical negligence that caused his sister to lose her arm and said that his family was not informed on the matter either.
"We were not informed that the contents of the report confirmed that she lost her arm due to medical negligence. We found out when it appeared in the papers. We cannot afford to take legal action but we will support a legal action taken against those who did this," he said.
He said Achala was emotionally distressed and tried to remain strong for her family but faced difficulty at times in doing so. He said that her left arm had not completely recovered and that she continued to receive treatment regularly at the Colombo National Hospital.
Tilekaratne said that neither he nor his father had a job and that his mother who recently returned to the country leaving her job in Lebanon was unlikely to go back to her job as his sister needed the mother's support as she could not do most things with one hand.
Meanwhile, the Law Faculty Students Union members said that they would get in touch with Achala soon and based on her wishes would move forward.
A union spokesman, Jayantha Dehiattage said that Health Secretary Nihal Jayatileka had informed the union at a recent meeting that the findings of the inquiry revealed that the misdemeanor was based on negligence, incompetence and system failure and that those responsible would be brought before the Public Service Commission.
Follow Emirates 24|7 on Google News.