Anaconda? No, just a 15-foot python in the garden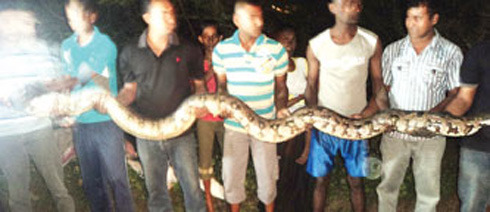 It is the kind of snake one is likely to encounter in the wild – deep, deep in the jungle perhaps.

However, a family in the town of Kantale, North-East Sri Lanka, in the Agbopura area, discovered their garden was home to a rather large snake.
A 15-foot-long python, in fact.

The residents struggled with to capture the python, but eventually managed it and the snake was then handed over to the Wild Life and Forest Conservation.

Then officials stated they have since moved the python and released it in the Somawathie National Park.

ALSO READ:

Lanka customs smoke out massive cigarette smuggling attempt from Gulf
Extortion gang led by cop's son
Follow Emirates 24|7 on Google News.