Brother impregnates younger sister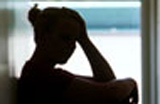 Colombo - An elder brother, who impregnated his younger sister, has been sentenced to 15-years rigorous imprisonment by the Gampaha High Court Judge, 'Mawbima' reported.

The case had been filed against the accused for the crime he committed between January 1, 2004 and April 30, 2014, during which he raped the 16-year-old sister on many occasions.

Delivering the order, the judge said that it was the responsibility of all elder brothers to provide security and care to their younger siblings.

Meanwhile, 'Mawbima' also reported that a father of three, who had been in love with a 15-year-old underage girl, has been absconding arrest by the Badureliya police for abducting the girl and keeping her in a house in Dodangoda.

Police said that girl is in love with the old man and has been admitted to the Badureliya hospital for a medical test while police continue their hunt to arrest the culprit.
Follow Emirates 24|7 on Google News.