Chief justice impeachment raises concern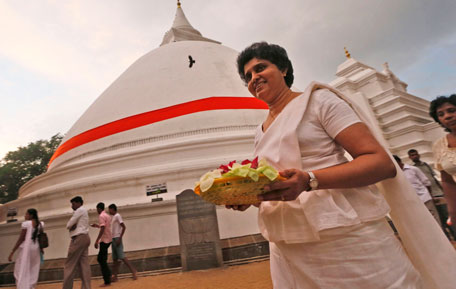 International criticism mounted Saturday over a move to impeach Sri Lanka's chief justice, with Britain demanding protection for the incumbent and the beleaguered legal profession in the former colony.
Britain added its voice to the United States in expressing deep concern over parliament's overwhelming vote Friday night to sack Chief Justice Shirani Bandaranayake following a controversial trial by ruling party MPs.
"The motion to impeach the Chief Justice runs contrary to the clear rulings of Sri Lanka's highest courts and the proceedings appear to contravene basic principles of fairness," the British foreign office said in a statement issued by the high commission in Colombo.
It said the rushed trial of the chief justice violated "due process and respect for the independence of the judiciary" and the Commonwealth principles on rule of law and good governance.
"Together with our international partners, we call on the Sri Lankan government to respect democratic principles and the right to peaceful protest and to ensure the continued safety of Chief Justice Shirani Bandaranayake."
A spokesman for President Mahinda Rajapakse said in the next few days he was expected to ratify parliament's vote to impeach Bandaranayake, 54, the country's first woman to hold the highest judicial post in the island of 20 million people.
A replacement is to be named next week, but the Lawyers' Collective, which includes most of the 11,000 lawyers in the country, have said they will not recognise a new appointee and urged other judges to follow suit.
The privately-run Weekend FT reported the disputed parliamentary vote under the heading: "Chief's justice denied."
But the state-run Daily News defended the sacking with an editorial headlined: "It's over, and the future is bright!"
Former foreign minister and opposition spokesman Mangala Samaraweera described the impeachment as a final blow to democracy in a country emerging from a decades-long Tamil separatist war and a state of emergency lasting 28 years.
"Up to yesterday at least we kept up appearances of being at least a nominal democracy. But as of Friday night, the Rajapakse government sheds the facade and the country becomes a pariah of the international community," Samaraweera said.
There was no immediate comment from Bandaranayake or her lawyers who denied allegations of "misconduct" brought after she gave several decisions that went against the government in recent months.
The British criticism follows a US statement Friday after the vote that urged Sri Lanka to "uphold the rule of law and respect the principles of democratic governance".
Follow Emirates 24|7 on Google News.