Lanka president appoints trusted aide as new chief justice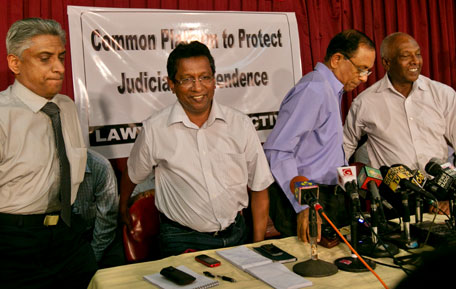 COLOMBO Sri Lanka's president has appointed a trusted aide to replace the chief justice he fired, a move that lawyers and opposition politicians say was illegal.
President Mahinda Rajapaksa on Tuesday swore in his new top judge, Mohan Peiris, a retired attorney general and a legal adviser to the Cabinet. On Sunday, Rajapaksa sacked Chief Justice Shirani Bandaranayake after a parliamentary committee found her guilty of having unexplained wealth and misuse of power.
Bandaranayake has denied the charges and accused the tribunal of not giving her a fair hearing. Courts have ruled in her favor but the president and Parliament ignored the rulings.
Rajapaksa's critics say replacing the chief justice is part of an effort to consolidate government power in the hands of the president's family.
ALSO READ:

Two kids abandoned in Puttalam



Sri Lanka Red Rain: Algae found in meteors



Sacked Sri Lanka chief justice says 'life in danger'
Follow Emirates 24|7 on Google News.