Navy saves Bangladesh and Myanmar nationals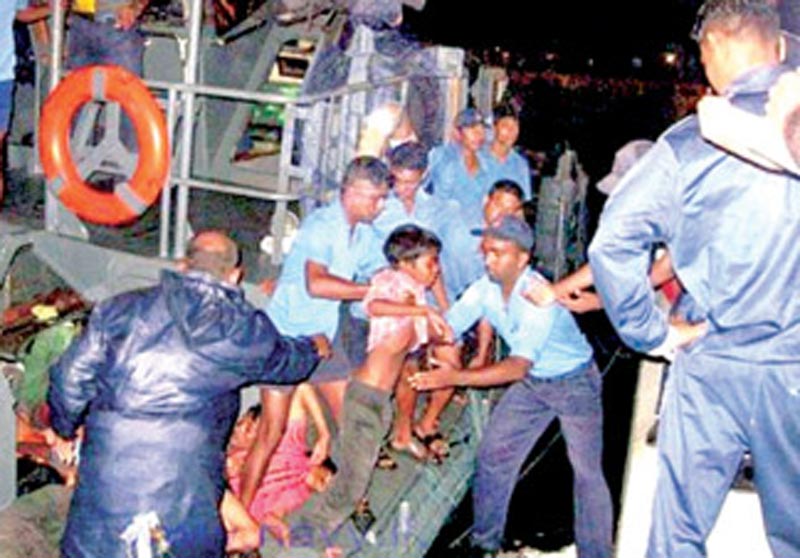 A group of Bangladeshi and Myanmar nationals, who were rescued by the Sri Lanka Navy from a sinking overcrowded wooden vessel, were illegals trying to reach Australia, the police said.

The 'Daily News' reported that when the Navy came to their rescue, the vessel they were sailing in was sinking 50 nautical miles off Akkaraipattu in the Eastern Province.

Those on board said 127 persons had left Bangladesh on December 26 and had gone to Myanmar to pick 11 Myanmar nationals.

When they tried to enter Malaysia thereafter, the Malaysian Navy had prevented them and allegedly assaulted those on board and also snatched their food items. Their vessel had also been damaged by the Malaysian Navy, they said.

The damaged vessel was drifting in the sea off Akkaraipattu with its engine broken and had started sinking gradually.

A crew of a local fishing craft named 'Manju 4' first sighted the drifting vessel and informed the Fisheries and Aquatic Resources Department which in turn informed the Navy.

Immediately, the Navy deployed three routine vessels and brought the rescued foreigners to the Oluvil harbour.

'Daily News' further reported that the Health Ministry has made arrangements to provide medical treatment for Bangladesh and Myanmar nationals found stranded in the boat.

Eight dehydrated persons were admitted to Akkaraipattu hospital and the condition of others is stable.

One died in the incident and others were handed over to Oluvil police for investigations while the embassies of Bangladesh and Myanmar were informed.



Follow Emirates 24|7 on Google News.