Please save our father, he's committing suicide: A heart-wrenching story of two brothers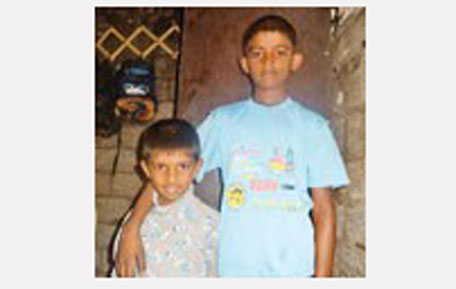 This story has elements of uncertainty and gut-wrenching despair, as it involves a young mother going to Saudi Arabia to earn a living and falling into trouble because of unscrupulous agents, and a family life getting destroyed in the process.
The tale of woe was unravelled on a rainy afternoon on January 11, when two teary eyed boys, barefoot and in rumpled clothing boarded a bus at Armour Street, Colombo 14.
The writer who is a journalist of Ceylon Today also happened to be on the bus.
The older boy was around 12 years and his brother about 4 or 5 years. When asked why the boys were crying, they related a disturbingly pitiable story.
"Our father is trying to commit suicide by setting fire on himself."
Given the gimmicks used by street kids and beggars to earn a few extra bucks with heart wrenching stories, one would have been excused for chasing the two boys away.
But the writer felt the boys were genuine, that their plight was genuine. So he got off the bus to check on the boy's story, and followed them in the rain to their house in Melwatta along Armour Street, Colombo 14.
The writer was on his way to office, but felt he couldn't simply ignore the boys or their plight or their concern for their father. So he decided to talk to the neighbours.
A Tamil lady in the neighbourhood revealed their pathetic tale.
The mother of the children, (Kiruparaja), had secured a job in Saudi Arabia in a bid to help the family lead a better life. She had been a sick woman suffering from a wheeze, but had yet managed to secure the job as a house maid in Saudi Arabia. The job had been secured through a local agent, who hadn't bothered to check on her medical suitability.
While in Saudi Arabia, her wheezing had worsened and her employers had chased her away from the house.
With no employer and no job, the woman is not only unable to send money to her family; she is also stranded in Saudi Arabia.
She had managed to send a message to the husband (Marcus Gnanasekare), pleading that he take her back to Sri Lanka.
The husband had then approached the recruitment agency and requested them to help bring Kiruparaja back to Sri Lanka.
The proprietor had asked Kiruparaja's husband, Marcus Gnanasekare, to pay Rs30,000 (Dh866), an amount the family could ill afford to get her down from Saudi Arabia.
Gnanasekare had got the money from a loan shark and paid the agency, which had however, not kept its promise. With no income, forced to pay interest on a loan, the situation at home worsened for both Marcus and his children.
Unable to bring his wife back to Sri Lanka, and not in a position to look after his children, Gnanasekare had decided he had no alternative but to commit suicide by self-immolation.
Fortunately, the neighbours had rescued him and he had been lucky to escape with some minor burns.
Kiruparaja is at the moment in the Saudi Branch of the recruitment agency. Earlier she had been telephoning Gnanasekare and keeping him update about her plight in Saudi. However, of late that too had stopped.
Kiruparaja had been forced to secure a job as a housemaid in Saudi, because Gnanasekare had been gambling in the streets of Colombo and wasted whatever money he earned.
The writer found Gnanasekare surrounded by his neighbours. He was explaining why he tried to commit suicide.
He said, though politicians grab their vote, no development work is done to help the destitute, such as his family. His house had been flooded during the recent rains, and the drains remain stagnated with dirt.
The day Gnanasekare tried to commit suicide, his two sons had run away in fear and got into the bus in tears. They had not known what to do, when they saw their father trying to kill himself.
Gnanasekare had written 5-page letter addressed to his wife, before his attempt on his life. It described the several misdeeds he committed and asked forgiveness from his wife and sons.
The employment agency, when asked about what had happened to Kiruparajah, told an entirely different tale, claiming Kiruparajah liked living in Saudi Arabia and wanted to continue to work there. But that Gnanasekare wanted his wife brought back to Sri Lanka.
When one considers the plight of two little boys forced to live with the uncertainty of not knowing what was happening to their mother, and the daily fear of not knowing what their father would do, who is telling the truth becomes moot. But if the mother actually enjoyed working in Saudi, shouldn't she at least try to get in touch with the children.
Sadly, all too often this is the plight many families face when mother leave behind their children and go in search of jobs overseas.
Follow Emirates 24|7 on Google News.