Sri Lanka's ex-president Rajapakse faces graft complaint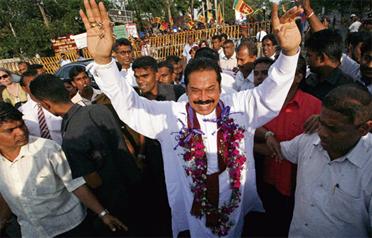 Sri Lanka's Marxist opposition party has filed corruption complaints against former president Mahinda Rajapakse and his family and asked the anti-graft body to prevent them from leaving the country, a spokesman said Wednesday.

The JVP, or People's Liberation Front, has lodged complaints against Rajapakse, his legislator son Namal and two brothers -- Basil and Gotabhaya -- who held powerful positions in the former president's administration that was ousted after last week's elections.

The election was partly fought on claims of misuse of public funds and nepotism, with the Rajapakse family accused of amassing huge wealth during the ex-president's 10-year rule.

"The main objective of our complaint is to ensure that the Rajapakse family is brought to justice," JVP lawmaker Sunil Handunetti told AFP. "We want to prevent them from fleeing the country and escaping justice."

In another blow to the family, the ex-president's nephew, Sashindra Rajapakse, was toppled Wednesday as head of a southern provincial council after his Sri Lanka Freedom Party lost a majority when lawmakers defected to the opposition.

"I have sworn in (local opposition leader) Harin Fernando as the new chief minister because he now has the support of 18 out of the 34 members (of the council)," Uva provincial governor Nanda Mathew said.

On the corruption complaints, Handunetti said a total of 12 individuals have been named as alleged offenders including former finance secretary Punchi Banda Jayasundera and ex-central bank governor Nivard Cabraal.

They have been accused of foreign exchange fraud, land grabs and misusing state property.

The anti-corruption unit, a statutory body, has been ineffective since its inception due to political interference, but new President Maithripala Sirisena has pledged to introduce laws making it more independent and giving it more power to prosecute offenders.

Rajapakse on Tuesday said he would not flee the country and wanted to stay in politics, while also denying allegations he attempted a coup to retain power after it became clear that he had lost the election.

The new government has vowed to investigate claims made by Sirisena's top aides that Rajapakse tried to mobilise the military to keep him in office.

The new government is also investigating the disappearance of a fleet of luxury cars from the president's office as Rajapakse vacated his official residence.

His family has been accused of massing wealth as they controlled nearly two thirds of the country's national budget.

During the election campaign, allegations emerged that the Rajapakse family had padded the price of a new highway to $16 million per kilometre -- allegedly more than double the actual cost.

The family was also accused of inflating the cost of a new Chinese-built railway to more than 12 times the actual price at $18 million per kilometre. An Indian company built an equivalent track for $1.5 million per kilometre.
Follow Emirates 24|7 on Google News.