Stealth-style drone's 3D mapping of Dubai topography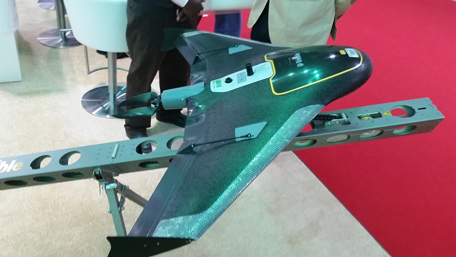 A stealth-shape unmanned aerial vehicle (UAV) – drone - is being used by Dubai Municipality to scan and survey the topography of the emirate, which helps the civic body plan development projects with precision.

"We have been using the drone for the past seven months and we have done a number of topographic surveys.

"If the survey was taken by manually it would take up around a month, but now we can scan the area in mere two to three days," Hamad Abu Hamad, Survey Department, Dubai Municipality, told Emirates 24|7.


"The image shows elevations such as hills and depressions on the surface, which is used to determine what areas need to be 'filled' or 'cut' to make them level, as part of projects to be built on the land."

The drone, which was on display at the recently concluded Dubai Government Achievements Exhibition 2015, has a speed of 65 kilometres per hour and can fly in light rain.

It is generally flown at a height of 100 to 250 metres when doing a survey of any area, though it can fly as high as 750 metres.

The e-box is equipped with an infrared camera, allowing the municipality to create three dimensional maps when the data is downloaded.

The civic body is now in talks with other government authorities to improve the battery life of the drone, which currently is 50 minutes.



Asked if the drone has been used for any project within the city, Hamad said: "It could be used anywhere and for any project."

The UAV has been used for survey the land area for the Dh30 billion Desert Rose, a new satellite city located between Al Ruwaya and Al Aweer areas across the Emirates Road and covers an area of 4,000 hectares.

The municipality had announced earlier this year that it will start using 3D maps after processing the aerial images captured by octocopters, drones used for vertical mapping by year-end, which is the first 3D mapping project for Dubai.

The 3D map will be updated twice a year to include new developments in the city and is aimed to be integrated with the 'Makani' smart addressing system.
Follow Emirates 24|7 on Google News.