Morning traffic chaos: Car on fire, crashes, delays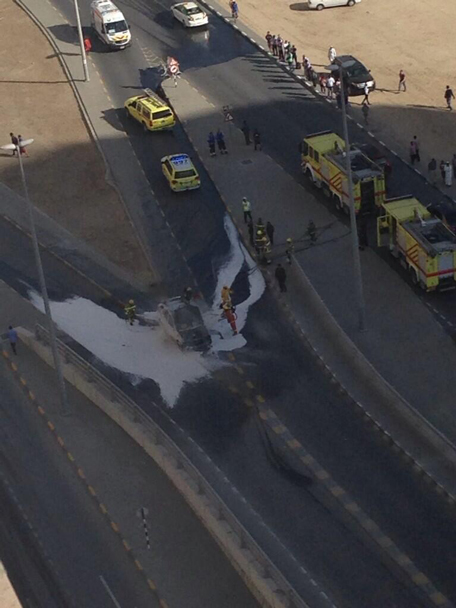 A car was reportedly on fire in Sharjah's Al Nahda area at about 8,20am this morning and firefighters brought it under control in less than hour.
However, traffic remains slow-moving as of 9.20am.
The incident was reported at 8.30am UAE time as commuters complained of traffic snarls while on their morning journey from Sharjah to Dubai.

"Firefighters still trying to control the fire - burning petrol is not helping - A car burst into flames in #sharjah" tweeted user SMoizS.

The user tweeted he could see the burning from his apartment window. "FIRE! another fire in #sharjah .. and again it's next door to me. All I see outside my window is smoke," he said.
Pic credit: Twitter user @smoizs

Meanwhile, multiple accidents are being reported across different emirates, with a crash reported on Sheikh Mohammed Bin Zayed Road, AbuDhabi-bound with multiple vehicle pile up.
Abu Dhabi Police tweeted about traffic congestion and delays after Seh Al Sudairh, inbound Abu Dhabi at 8.30am even as the traffic reportedly cleared out after some time.
In addiiton, minor accidents were being reported on Al Ain-Abu Dhabi Road (Abu Dhabi-bound) after exit 381, as well as in Al Khail Road, near Business Bay slightly before Financial Centre Road.

Earlier this morning, a minor accident was also reported in Sharjah's Al Dhaid Street just before it meets Sheikh Mohammed Bin Zayed Road, with social media users tweeting that they had been stuck in a traffic jam for longer than usual.
Heavy traffic is also being reported on Hessa Street in Dubai and Al Yalayis St Southbound approaching Green Community.
Drivers are advised to drive carefully and expect delays in reaching their destination this morning if using any of these roads.
Follow Emirates 24|7 on Google News.