Survivors recount Ghana tree fall tragedy that killed 20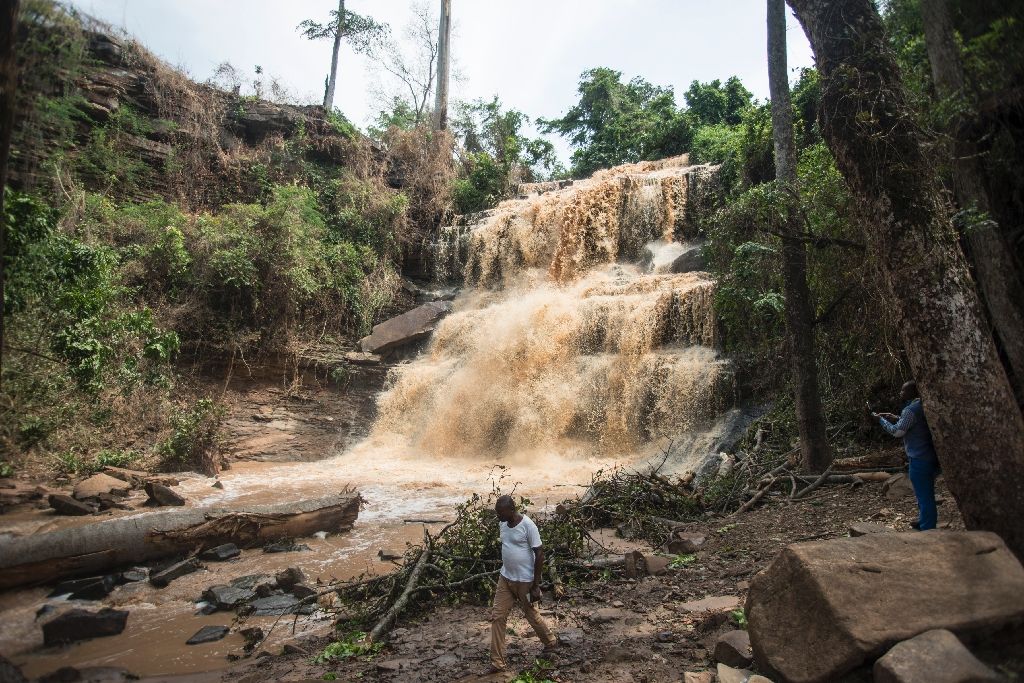 Frank Adansi-Bonnah sat on his bed Monday in the Kintampo Municipal Hospital in central Ghana, his lips covered in bruises and cuts, and his arm in a sling.
He was swimming with his friends on Sunday afternoon at the popular tourist destination of Kintampo Falls, when a massive tree crashed into the water, crushing everyone around him.
Eighteen students died at the picturesque spot in the Brong-Ahafo region, some 450 kilometres (281 miles) by road from the capital, Accra. Two others died later in hospital. At least 22 were injured.
"What I remember was I was struggling with the tree," said the 21-year-old Adansi-Bonnah, who is a student at University of Energy and Natural Resources in the regional capital, Sunyani.
Dazed and disorientated, he did not know what happened to his friends but was told three other students from his university were killed in what has been described as a freak accident.
"I'm thankful I'm alive," he said in a quiet voice, as his concerned father looked on.
The student, who suffered cuts to his head and a dislocated shoulder, was one of the lucky ones.
Nearby, Joanna Adubea watched her sleeping 16-year-old daughter Matilda Owusu Addo-Nyinah, whose neck was in a brace. She suffered spinal damage and sprained her arm.
The teenager - from the Wenchi Methodist Senior High School, where many of the dead were students - will be transferred to a bigger hospital that can deal with her injuries, her mother said.
Huge gust
Photographer Richard Asante, 50, said he was at the falls when the wind started picking up.
"We saw the rain coming, we ran to the shelter. Somewhere after 20 minutes we saw a severe wind coming," he recalled.
"By that time there were many people inside the water bathing. I decided to call them to come out but because of the water falling they didn't hear me.
"All of a sudden, as we raised our heads, the big tree at the top of the river cracked and fell inside the water, onto the many people.
"We saw that there was a problem as the children were crying, some of them are struggling to come out."
Alexander Sarpong, the chief inspector of Kintampo police, said the students would have had no time to react and would have been killed instantly by the impact, rather than drowned.
"It was all of a sudden, the wind just started, there was no cloud to indicate there would be rainfall. It was unexpected," he said.
Churning
On Monday, the usually clear waters of the waterfall were a muddy brown and churning violently in the pool where the students had been swimming.
Uprooted trees and fallen branches littered the beauty spot, which is a haven for visitors from across the country, as the authorities worked to clean up the debris.
Sarpong said police attended to the scene as quickly as they could, helping other emergency personnel and civilians pick through the damage.
"I felt sad. I didn't know what to do, we just had to rush in to convey the injured, those we can save to the hospital and later on we conveyed the dead to the mortuary," Sarpong said.
Ghana's President Nana Akufo-Addo sent his condolences to the families of those who died in what he said was an "unfortunate and tragic incident".
Kintampo police superintendent Anane Appiah said an investigation had been launched but initial indications were that it was a "natural disaster", he said.
"It's not the fault of anybody. We have to take some proactive measures so such occurrences cannot also come again," he added.
Mohammed Iddrisu Zito, an assistant planning director at the Kintampo North Municipal District, also described the accident as a freak of nature but said measures could be taken at the site to warn people of potential hazards
"It was a natural disaster. It will happen but the casualties we saw shouldn't have been like that," he said.
Follow Emirates 24|7 on Google News.