Sweden's new princess is named Leonore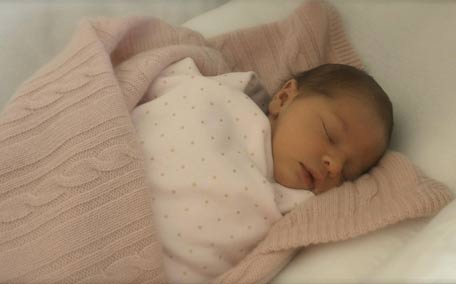 Sweden's new princess, born last Thursday in New York, is called Leonore, her grandfather King Carl XVI Gustav said Wednesday.
Her full name is Leonore Lillian Maria and she has received the title of duchess of Gotland.
Sweden's King Carl XVI Gustaf (2nd R) and Crown Princess Victoria (3rd L) head a royal cabinet meeting to name the newborn daughter of Princess Madeleine and her husband Christopher O'Neill at the Royal Palace in Stockholm. (REUTERS)
Leonore's parents are 31-year-old princess Madeleine, the king's youngest child and fourth in line to the throne, and 39-year-old US-British financier Christopher O'Neill, who got married in Stockholm in June.
The Swedish Royal Court published the first pictures of the baby on Wednesday.
Leonore is the second grandchild of the royal couple after Estelle, aged 2, who is the daughter of Crown Princess Victoria.
Princess Madeleine and her husband live in New York, where the brand-new mother works for the World Childhood Foundation, an NGO created by her mother, Queen Silvia, in 1999.
Follow Emirates 24|7 on Google News.