Sydney to Hong Kong to Paris to New York: Global wave of fireworks brings in 2013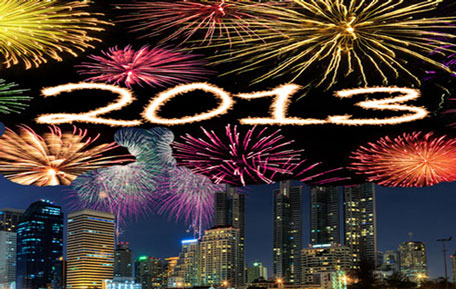 Asian capital cities brought in the New Year in spectacular style after Sydney set off a global wave of fireworks, with long-isolated Yangon joining the pyrotechnic celebrations for the first time.
Australia's famous harbour city brought in the New Year on a balmy summer night with a US$6.9 million display curated by pop icon Kylie Minogue.
To the roars of the crowds, the sky erupted at midnight as fireworks shot up from barges and jet skis in the harbour and cascaded from the Harbour Bridge, bursting and glimmering overhead.
"This is really putting Australia on the map in terms of welcoming people to the New Year," Sydney Lord Mayor Clover Moore said.
Three hours later in Hong Kong, the iconic skyline lit up with an eight-minute display, as an estimated 100,000 partygoers flocked to the Victoria Harbour waterfront.
"I love the atmosphere here at New Year, but this is just the beginning of the night. We're off to do karaoke now," said Katie Chan, 26, among the crowds packed onto an open air walkway.
In Myanmar, an estimated 50,000 people were flocking to Yangon's revered golden Shwedagon Pagoda for the city's first public New Year countdown and fireworks display, seen as further evidence of opening up after decades of junta rule.
"I came here to have fun and leave disappointment behind," said 27-year-old reveller Sithu.
Meanwhile, in Russia, President Vladimir Putin used a traditional New Year's address to call for unity following a year of protests against his return to the Kremlin for a third term.
In Rome, Pope Benedict XVI celebrated New Year's Eve vespers in St Peter's Basilica, voicing solidarity with the poor and calling on believers to pause to reflect from time to time despite busy lives.
"We have to know how to stop and think. This way our soul can find healing for the inevitable wounds of everyday life," he said.
Revellers in New York will celebrate the stroke of midnight with the traditional New Year's Eve ball drop over Times Square, where South Korean pop sensation Psy will join a host of American music stars.
In Rio de Janeiro, officials have promised a bumper 16-minute, 24-tonne display opposite Copacabana Beach while in Germany, fireworks will cap a party at Berlin's Brandenburg Gate with the Pet Shop Boys, Bonnie Tyler and Blue.
Vying to become a permanent fixture on the planetary map of New Year celebrations, the Gulf city state of Dubai is planning a lavish gala at the Burj Khalifa, the world's tallest building.
Fireworks will engulf the spike-like tower, accompanied by a soundtrack performed live by the Prague Philharmonic Orchestra.
In Paris, however, the authorities issued a reminder that all fireworks are officially banned for the night. The crowds that gather on the Champs-Elysees and around the Eiffel Tower will have to make do without any display.
And in Caracas, the mayor cancelled the city's traditional end-of-year concert in Bolivar Square, instead asking Venezuelans to pray at home for ailing President Hugo Chavez, who suffered a new setback after cancer surgery.
In regions devastated by Typhoon Bopha which hit the southern Philippines in early December killing at least 1,067 people, many survivors said food, work and permanent shelter topped their priorities for the New Year.
In the capital Manila, authorities had been bracing for the annual rush of injuries as families celebrated with do-it-yourself firework displays and shot celebratory bullets into the air.
Seoul ushered in 2013 with a ritual ringing of the city's 15th-century bronze bell 33 times, reflecting the ancient practice of marking a new year.
Millions visited temples and shrines in Japan for "ninen-mairi" two-year prayers, gathering at family homes to feast on soba noodles and watch the New Year variety show "Kohaku Uta Gassen" or the Red and White Song Contest.
Fireworks also went up in cities across China. And In Taiwan, hundreds of thousands defied chilly winds to pack the square in front of the Taipei City Hall for a concert featuring Taiwanese pop diva A-Mei and Hong Kong-based singer and actor Aaron Kwok.
But in India, a country rocked by the deadly gang-rape of a young medical student, the armed forces cancelled New Year celebrations while many hotels and bars scaled back parties out of respect for the unnamed victim.
Image via Shutterstock
MUST READ:
Goodbye 2012: Dubai at stroke of midnight
Follow Emirates 24|7 on Google News.