Syria rebels plan to break Aleppo deadlock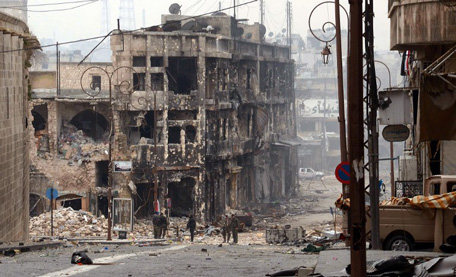 Rebels trying to break a months-long deadlock in their battle for Syria's second city Aleppo say they are cutting supply routes ahead of simultaneous assaults on regime bases.
"The FSA (the rebel Free Syrian Army) is making new steps to liberate the city," Hajji Anadan, the non-military chief of the Al-Tawheed Brigade headquartered in Aleppo, told AFP in an interview on Wednesday.
"We are focusing on military areas around Aleppo, the airports and the bases. And, thanks to God, we are surrounding them and step by step we will liberate them."
The rebels are fighting regime troops at a base defending Aleppo's international airport, a strategic facility in the southeast of the city.
"Base 80 is surrounded by the FSA. We are planning a big attack on that and on other bases, coordinated and simultaneous attacks," Anadan said, without giving details.
"The FSA is surrounding the city and is moving on the airports. It is cutting off the routes so the army can't get supplies or munitions," he said.
"Nobody is bringing support for the army."
The main city in Syria's north, Aleppo had around five million residents before the civil war upended their lives in July. Many were forced to flee their homes as vicious fighting erupted and the rebels grabbed eastern districts.
For more than three months now, neither side has been able to get the upper hand, and the city has become divided, with abandoned neighbourhoods separating the warring sides and checkpoints screening vehicles.
While pedestrians and street markets have returned to give a semblance of daily life, the threat of air strikes and shelling is constant in the rebel-held zone and people in regime-controlled part of the city fear mortar rounds and car bombs.
Anadan said "most of the regime areas are not safe because the regime doesn't have full control of them. The rebels control many areas in Aleppo but people are not safe there either because there is shelling and bombing."
Each side blamed the other for two explosions on Tuesday at Aleppo University which killed at least 87 people, according to the Syrian Observatory for Human Rights.
Rebels and some people who said they witnessed the blasts said a regime warplane fired rockets at the university, which some said had been a symbol of opposition to President Bashar al-Assad.
"I saw the plane twice fire rockets at the university. I heard two explosions," a 25-year-old minibus driver who crosses the city daily and who gave his name as Abu Mohammed told AFP.
"People started running, they tried to help, putting injured people in small trucks. There were maybe 20 bodies on the ground, many of them with their limbs blown off."
But the government in Damascus said the massacre was caused by "terrorists", its term for the rebels.
Follow Emirates 24|7 on Google News.