Syrians fleeing war likely to pass million soon: UN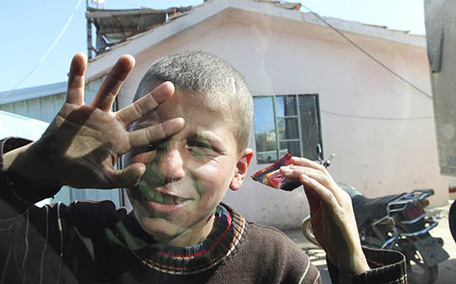 More than 40,000 people a week are fleeing war-torn Syria and the total number of refugees will likely pass 1 million in less than a month, a senior U.N. official told the Security Council on Wednesday.
U.N. High Commissioner for Refugees António Guterres said the U.N.
agency as of Tuesday had registered 936,000 Syrians across the Middle East and North Africa, nearly 30 times as many people as April last year.
"We expected to have 1.1 million Syrian refugees by June. If things continue to accelerate like this, it will take less than a month to reach that number. Just last night, and just into Jordan, 4,585 fled the country," he told the 15-member council.
"The refugee numbers are staggering, but they cannot convey the full extent of the tragedy. Three-quarters of the refugees are women and children. Many of them have lost family members. Most of them have lost everything," he said.
Turkey, Lebanon, Jordan, Iraq and Egypt have been flooded with the bulk of the refugees.
The United Nations says nearly 70,000 people have died during the revolt against Syrian President Bashar al-Assad, which began two years ago with peaceful protests but turned violent when Assad's forces tried to crush the demonstrations.
U.N. aid chief Valerie Amos, who also briefed the Security Council, appealed for countries that pledged money at a Jan. 30 donor conference in Kuwait to pay up. She said only $200 million of the more than $1.5 billion pledged had been received so far.
"This is a crisis that is completely stretching our capacity," Amos told reporters. "I am extremely concerned by the rising costs of this.
We asked for $1.5 billion for our response for the next six months.
Those figures are already out of date."
"The first two months of this year have been a real game-changer," she said. "It demands more of us ... but even with us working full-tilt, the scale is outpacing whatever we do on the response side."
Zainab Hawa Bangura, the special representative of U.N.
Secretary-General Ban Ki-moon on sexual violence in conflict, said there had been systematic use of sexual violence in Syria, but added that her agency could not get information from most of the areas controlled by armed opposition groups.
"Sexual violence against women, against men, against boys and girls, it's widespread," she told reporters after briefing the council.
"Sexual violence, especially against men and boys, it's a way of soliciting information when people detained."
She said victims who had been detained by the government had told U.N. agencies that sexual violence was used as "a technique to get information."
Syria's U.N. ambassador, Bashar Ja'afari, said the Syrian government would ensure that the perpetrators of sexual crimes would face justice. He also described the pledging conference as a "humanitarian bazaar" for Gulf states to show off to the media "that they care a lot about the dramatic situation of Syrian refugees."
The Security Council has been deadlocked on Syria since 2011 over Russia and China's refusal to consider sanctions against Assad's government. They have vetoed three resolutions condemning Assad's attempts to crush the revolt.
Follow Emirates 24|7 on Google News.