Taiwan's opposition Nationalists pick former VP Wu as party chief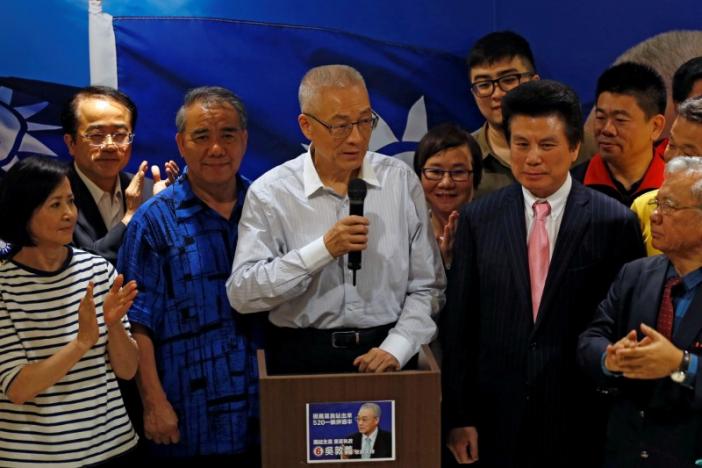 Taiwan's biggest opposition group, the China-friendly Nationalists, on Saturday picked as its chief the island's former vice president Wu Den-yih, an advocate of improved and stable cross-strait relations.
In his acceptance speech, Wu, 69, said the party would need to implement measures to boost the economy such as by increasing incomes and implementing pension reforms.
The Nationalists, also known as the Kuomintang (KMT), once governed all of China, but fled to Taiwan in 1949 after being defeated in a civil war with China's Communists.
The KMT and Beijing have always recognised Taiwan as part of China, but the two disagree on who rules "one China". The KMT says Taipei is the ruler, while China says the Communist party in Beijing is the legitimate government of "one China".
Because of this, the KMT has been struggling to stay relevant after bruising electoral defeats to the ruling independence-leaning party, which rose to power last year on an electorate increasingly hostile to China.
Chinese President Xi Jinping sent a message of congratulations to Wu, saying he hoped the two parties keep in mind the well-being of people on both sides of the Taiwan Strait and firmly oppose Taiwan independence, state news agency Xinhua reported.
China has never renounced the use of force to take back Taiwan, which it deems a wayward province. Local polls show that a growing number of people in Taiwan do not accept the "one China" policy even if they think economic ties with China, which is Taiwan's largest trading partner, are important.
Wu, a former Taiwan vice president in the previous administration and a party senior, hails from central Nantou County.
A legislator for many years, Wu takes over from current party chair Hung Hsiu-chu in August, having won 52.24 percent of the votes, which were split among six candidates.
He now faces the task of fostering the next generation of party leadership.
"The main task for Wu is to cultivate talent within the KMT and do well in the local elections next year ... This will help the party for the next presidential election in 2020," said Fan Shih-ping, a professor at National Taiwan Normal University.
At voting booths on Saturday, some supporters emphasized the long road ahead for the KMT.
"There seems to be a chasm within the party," said KMT member Kung Yu-mei, 59, as she cast her vote in New Taipei City.
"The new chairperson really has to bring back consistency to the party, because if everyone has their own practices, this party will never be able to stand together."
Follow Emirates 24|7 on Google News.