Taking The High Road: Indian's story of Dubai's explosive growth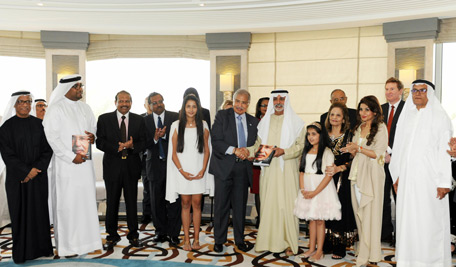 Sheikh Nahyan bin Mubarak Al Nahyan, Minister of Culture and Knowledge Development, yesterday released the Arabic language version of the autobiography of the prominent Indian business leader and Chairman of the ITL Cosmos Group Dr. Ram Buxani, 'Taking The High Road'.
The book was launched during a ceremony at the Majlis of Sheikh Nahyan in Abu Dhabi, in the presence of a large number of dignitaries, media representatives and other invited guests.
In 'Taking The High Road' Dr. Buxani takes the reader on a journey to the early days of his own eventful life, as well as through the exciting passage of Dubai from a small trading post on the Arabian Gulf to a world class business hub within 50 years.
Dr. Buxani in his comments said, "I personally thank Sheikh Nahyan bin Mubarak Al Nahyan, Minister of Culture and Knowledge Development, for kindly consenting to launch this book, which not just records the success and contribution of businessmen like me but indeed it is a tribute to the trust that successive leaders have placed in us and made us integral to the building of this great country."
Commenting on the Arabic edition of 'Taking The High Road', Dr. Buxani said, "I've always wanted to reach out to my extended family of Emirati and other Arab friends through their language. It is also my long standing wish to tell the broader Arabic-speaking population about the story of the contributions made by the Indian business community to the development of this beautiful nation. I hope I've succeeded in doing this through this book."
The author weaves a compelling story that captures the essence of the entrepreneurial spirit that has driven Dubai and the UAE to dizzying heights and helped establish trading as the frontline engine of growth for the local economy.
The book recalls how in the 1950s ITL became the first trading company to receive a licence through a decree issued by Dubai's then ruler, the late Sheikh Rashid bin Saeed Al Maktoum.
"We asked for some sort of written permission to conduct our business and the Ruler issued a two-sentence decree, the first to a trading enterprise in Dubai," reminisces Dr. Buxani, adding, "It is such simple yet far-reaching decisions born of integrity that were the rock solid foundations of 21st Century UAE."
"Sheikh Rashid was a visionary of extraordinary understanding of what Dubai's strengths were and how best to deploy them in order to build a sustainable future for his people.
"I was fortunate to be working here at the time and be a witness to the transformation of the UAE into a modern nation under leaders who are continuing to build on the legacy of the founding fathers," said Dr. Buxani.
Follow Emirates 24|7 on Google News.