Taliban search for man who cuts off wife's nose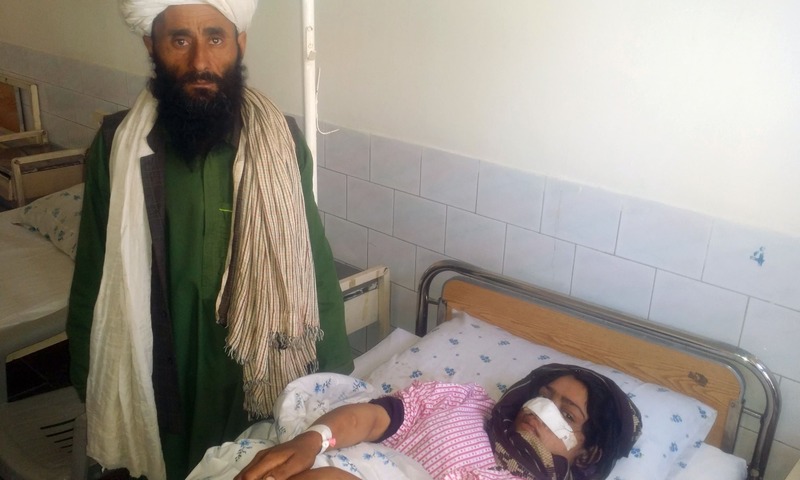 The Afghan Taliban said Wednesday they were searching for a man who cut off his wife's nose, condemning the attack as "un-Islamic", after online images of the young woman sparked widespread outrage.
Mohammad Khan has been on the run since he attacked his wife Reza Gul, 20, with a pocket knife on Sunday, severely disfiguring her face.
The couple lived in restive Ghormach district in the northwestern province of Faryab, which is largely under Taliban control. Khan is believed to have fled to an area near the border with Turkmenistan, local residents told AFP.
"We are searching for the husband and want to find out what made him take such action," Taliban spokesman Zabihullah Mujahid told AFP, rejecting local media reports that Khan had joined the militant group.
Local Taliban official Noor Mohammad branded the attack as "un-Islamic". He said the group, who deprived women of many of their basic rights during their five-year rule, were "outraged by this incident".
"We are trying to find the husband," Mohammad added, without elaborating on what the militant group, known for their brutal justice, would do to Khan if they found him.
The incident is yet another example of the endemic violence against women in Afghan society, despite reforms since the hardline Taliban Islamist regime was ousted in a 2001 US-led invasion.
The Afghan government has vowed to protect women's rights but failed to prevented violent attacks.
In areas under Taliban control, the militant group often act as arbitrators of justice, and they had previously intervened in Gul's case to stop the persistent domestic abuse.
Gul was married off five years ago as a teenager and was regularly beaten by her husband, forcing her to flee to her parents' home in a Taliban-controlled area, she previously told AFP.
While there, she said, the insurgents made her unemployed husband swear on the Koran that he would not hurt her again.
But soon after she returned to him, he sliced off her nose.
Gul is currently in hospital in Faryab along with her two-month-old daughter.
Provincial authorities in Faryab are making arrangements to send Gul to Turkey for reconstructive surgery, which is not available in Afghanistan.
"The Turkish officials have promised that they will help in sending her to Turkey for treatment," Mohammad Marouf Samar, the province's acting health director, told AFP.
"We are trying to get her national identification card and passport so she can travel," said Ahamad Javed Bedar, spokesman for the provincial governor.
Follow Emirates 24|7 on Google News.