Three dead, scores injured as train derails in Italy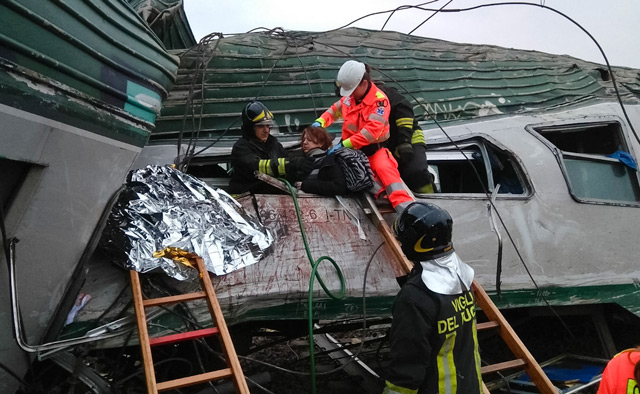 At least three people were killed and 10 seriously injured when a packed regional train derailed Thursday near Milan in northern Italy, emergency services said.
Hours after the crash, rescuers continued to search for passengers inside the wreckage. One of the carriages was lying across the track, bent almost at a right angle.
About 100 other people sustained light injuries, Cristina Corbetta, an official with the regional emergency services in Milan, told Sky TG24.
She said the incident happened at around 7 am (0600 GMT) near Segrate in Milan's northeastern suburbs. The cause was not immediately clear.
Many of the passengers were travelling to work in Italy's economic capital, or were students.
It is the most serious rail accident in Italy since 23 people were killed in a high-speed head-on collision between two passenger trains in July 2016 in the southern Puglia region.
The injured were evacuated on stretchers, with the more seriously hurt receiving first aid in a field near the accident.
Journalists watched from a field about 100 metres away from the site, where three helicopters arrived to rush the injured to hospital while another patrolled the area.
One of the injured could be seen, clothes ripped, covered with a thermal blanket and wearing an oxygen mask being evacuated by helicopter.
The first images released by the fire service showed a passenger trapped in their seat, surrounded by bits of the collapsed ceiling, and part of the wall twisted by the shock.
'Mummy, help!'
One woman told the newspaper La Repubblica that her daughter had called her on her phone to say "Mummy, help, the train is derailing" as the accident happened. Since then, the woman said there has been no reply on her daughter's telephone.
Italian media quoted witnesses as saying the train began to shake heavily as if it was travelling over rocks. Then it braked suddenly and derailed.
Milan prosecutors have opened a probe into the accident, and investigators have begun questioning the driver, Italian media said.
The regional train had left the town of Cremona at 5:32 am and was scheduled to arrive in Milan at 7:24 am.
The train belonged to the Lombardy regional rail company Trenord, which is owned in equal parts by the public company Trenitalia and Ferrovie Nord Milano.
Trenord informed passengers at 8 am of the interruption to services due to a "technical problem", sparking sharp criticism on social media.
Follow Emirates 24|7 on Google News.