Timeline of Venezuelan president 'drone attack'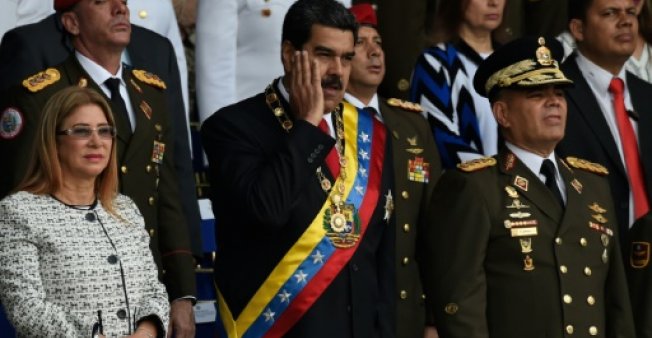 Six people have been arrested, accused of "terrorism" and attempting to assassinate Venezuela President Nicolas Maduro with explosive-laden drones. Here is a look at how the alleged attack unfolded.
- Military Parade -
Maduro was speaking at a military parade to honor the National Guard, a body the opposition accuses of being primarily responsible for the 125 deaths during four months of civil unrest in 2017.
The president was warning citizens that those who failed to register their cars in a national census would miss out on subsidized fuel when an explosion above his head took away his attention.
"What happened?" said Maduro looking upwards worriedly, his wife Cilia Flores flinching as bodyguards jumped in to shield the president, with someone shouting "shelter him!"
Maduro was heard saying "let's go to the right" as television pictures cut away from him to the lines military personnel.
But the National Guardsmen then scattered in panic after a second explosion was heard, the state television broadcast quickly cutting away from that too.
Photos and videos published later showed soldiers protecting the president with plastic shields while a uniformed officer was evacuated with blood pouring from a head wound.
- 'Shockwave' -
Marco Salgado, a foreign correspondent who's been working in Venezuela for a decade, was close to Maduro at the time of the first explosion and took the picture of the bloodied soldier, one of seven injured according to the government, three of them seriously.
"I had my back to the stage when I felt the shockwave. I thought a rocket had exploded very close to me.
When I looked at the stage, I saw they were sheltering the president," he told AFP.
The obscure National Movement of Soldiers in T-shirts group claimed responsibility for the attack that Interior and Justice Minister Nestor Reverol said was carried out using two drones, each packed with a kilogram (2.2 pounds) of plastic explosive C4.
The first became "disoriented by signal inhibiting equipment" and was thus "activated outside the assassins' planned perimeter," Reverol said.
The second drone lost control and crashed into an adjacent building, letting off a plume of smoke, he added.
That's when armed forces and spectators alike ran for cover.
"There was chaos. People running in every direction but many not knowing where to go. Everyone was confused, the spectators as well as the National Guard," added Salgado.
A commanding voice telling the troops to stand firm had no effect as panic gripped those fleeing.
Maduro, though, kept his calm, believing the explosions to be from the kind of fireworks often set off at officials events.
- 'Serenity' -
Thereafter there was absolute silence from the government for one hour before Communication and Information Minister Jorge Rodriguez appeared in front of state cameras stating that the president had come under "attack."
"Don't worry, he's completely unhurt," added Rodriguez, speaking of a president against whom thousands regularly take to the streets to protest.
Three hours after the dramatic episode, Maduro appeared on television to denounce an attempt "to assassinate me," while talking of how he'd reacted with "serenity."
"This drone was looking at me," he said, before launching into a series of accusations against the opposition, Colombia President Juan Manuel Santos and the United States, those he calls the "ultra-right."
Follow Emirates 24|7 on Google News.