Toddler chokes on hidden Kinder egg toy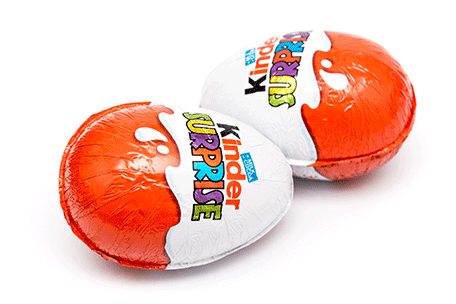 A three-year-old French girl has died after choking on a toy hidden inside a Kinder Surprise chocolate egg, a prosecutor said Wednesday.
The girl's mother told police she was with her daughter when the child swallowed a small plastic wheel that broke off from a toy hidden inside the egg, a much-loved product made by Italian company Ferrero.
"The child's grandfather arrived quickly and managed to extract the object", but the girl had fallen into a coma and died on Saturday night in a hospital in the southwestern city of Toulouse, said a statement from prosecutor Cecile Deprade.
An autopsy confirmed "death following mechanical asphyxiation".
A warning on Kinder Surprise eggs says they are not for children aged three and under.
According to the Kinder website, more than 30 billion eggs have been sold around the world with more than 8,000 different surprises hidden inside.
"All Kinder Surprise toys are designed and developed with safety in mind, rigorously observing international regulations as well as extra safety criteria voluntarily adopted by the Ferrero Group," reads the site.
The treats, developed in 1974, have never been marketed in the United States because of strict laws on sweets with toys hidden in them.
Ferrero said that upon hearing the "sad news" of the girl's death, it was unable to confirm whether its Kinder brand had indeed been involved.
According to the Science Daily research news website, figures in 2010 showed a child will die every five days in the United States from choking on food.
Follow Emirates 24|7 on Google News.