Top justice official denies discussing removing Trump from office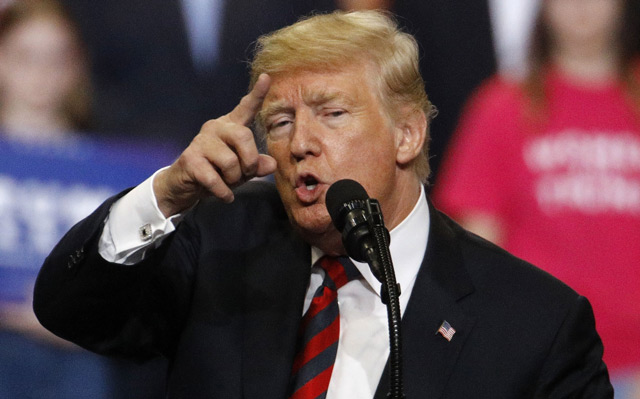 US Deputy Attorney General Rod Rosenstein denied Friday a report that he had suggested looking for ways to remove Donald Trump on grounds of mental fitness, just months after the president took office.
Rosenstein said that The New York Times report - which alleged that he also proposed around early May 2017 that cabinet members record Trump for evidence of his mental fitness - as "inaccurate and factually incorrect."
Rosenstein and the Justice Department did not deny the remarks themselves, but suggested they had been made jokingly.
They were apparently made in the presence of other senior Justice Department officials only weeks after Rosenstein took office on April 29, 2017.
According to the Times, Rosenstein made them just after Trump used a memo he wrote to fire FBI Director James Comey, who the US president was angry with over the investigation into alleged collusion by members of Trump's election campaign with Russia.
According to the Times, Rosenstein was unhappy about being "used" by Trump in the firing of Comey, as well as concerned about other turmoil in the White House under the new president.
He allegedly suggested invoking the US Constitution's 25th amendment, which provides for removing a president if they are judged unfit for office, and also recruiting top cabinet officials or Trump aides to record the president for proof.
"The New York Times's story is inaccurate and factually incorrect," Rosenstein said in a statement.
"I will not further comment on a story based on anonymous sources who are obviously biased against the department and are advancing their own personal agenda," he said.
"But let me be clear about this: Based on my personal dealings with the president, there is no basis to invoke the 25th Amendment."
The report, which appeared to be based in part on memos from Comey's interim successor Andrew McCabe, came as Special Counsel Robert Mueller - who Rosenstein named to run the Russia collusion investigation on May 17, 2017 - increasingly poses a threat to the White House and Trump himself.
Trump has called the Mueller probe a witch hunt and attacked both Rosenstein and Attorney General Jeff Sessions for not shutting it down.
The Justice Department released a comment from a former senior department official who was "in the room" at the time Rosenstein raised the issues that stressed it was done as a joke.
"The statement was sarcastic and was never discussed with any intention of recording a conversation with the president," the former official said.
Follow Emirates 24|7 on Google News.