Torrential rain, floods hamper Australia cyclone relief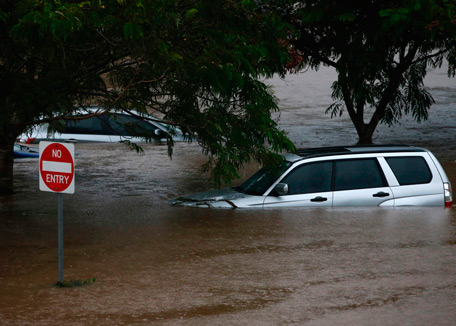 Torrential rain hampered relief efforts Thursday after a powerful cyclone wreaked havoc in northeast Australia, with floods sparking emergency rescues as fed-up tourists began evacuating from resort islands.
Cyclone Debbie has pummelled Queensland state since crashing ashore as a category four storm on Tuesday between Bowen and Airlie Beach, ripping up trees, washing boats onto land and causing widespread damage.
It has been downgraded to a tropical low as it tracks southeast, but continues to pack damaging gusts and dump huge amounts of rain, with Brisbane now in the firing line.
Meteorologists said the city was soaked by a month's worth of rain in a single day, with the popular Sunshine Coast and Gold Coast areas also drenched ahead of the system moving offshore, expected Friday.
Theme parks and beaches in the area were closed.
"We have a very, very large state here and this is a very, very big weather system that's going to wreak havoc all the way down the coast," Queensland Premier Annastacia Palaszczuk said.
Emergency service crews, who took more than 3,000 calls for help, rescued dozens of people from floodwaters, with some plucked from roofs and tops of cars.
To reinforce the message that people should steer clear of floods, Queensland Fire and Emergency tweeted a picture of a shark washed up on a road near the town of Ayr.
"Think it's safe to go back in the water? Think again! A bull shark washed up in Ayr. Stay out of floodwater," they said.
Despite the ferocity of the storm, no deaths have been reported with only one significant injury - a man crushed by a collapsing wall. Before the cyclone hit, thousands of people moved to higher ground, out of the area or to safe refuges.
The wild weather has made the clean-up difficult as crews battle horrendous conditions to reach isolated communities and restore power.
Many roads remain flooded and towns cut off with hundreds of schools closed and authorities keeping a close eye on dams as water levels rise.
Flood evacuation orders were also put in place for parts of northern New South Wales, which neighbours Queensland.
A significant experience
Great Barrier Reef islands were among the worst hit.
Tourists and residents had been stranded for days on devastated Hamilton and Daydream islands, battered by terrifying winds of more than 260 kph (160 mph) at the height of the tempest.
Hundreds were evacuated Thursday after struggling with no power and toilets not flushing as water ran low.
Jacqui McCullagh, who was staying on Hamilton Island, said the once-lush area was in a bad way.
"Boats washed ashore, houses without roofs, windows smashed in, trees snapped in half, gum trees torn out of the ground and those that do remain standing, are bare and lifeless," she told the local Whitsunday Times.
The military has mobilised 1,300 soldiers to help assess the full extent of damage and aid the clean-up, with helicopters and planes deploying to restore infrastructure and supply emergency food, water and fuel.
Debbie has officially been declared a catastrophe by the Insurance Council of Australia, allowing claims from the disaster to be prioritised.
The economic cost to a region that relies heavily on tourism and farming is expected to be huge, with sugarcane crops hit hard and the cattle industry also impacted, officials said.
"Producers in the Whitsunday area were planting winter vegetables and they're expected to suffer heavy crop losses as well as infrastructure, crop and irrigation equipment damage," said Queensland's Rural Economic Development Minister Bill Byrne.
"In the Mackay district, it's understood that the cane fields at Proserpine, Mackay and Sarina have been flattened."
Follow Emirates 24|7 on Google News.