Trump meets Australia's Turnbull, says spat 'all worked out'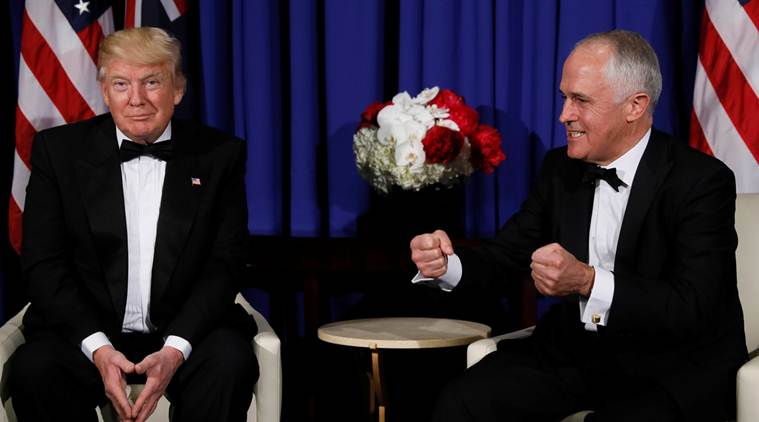 Donald Trump met Australia's Malcolm Turnbull for a patch-things-up summit in New York Thursday, when the US president said an earlier telephone spat had been "all worked out."
Trump claimed a bad-tempered call with the Australian prime minister early in his White House tenure had been "fake news" that was a "big exaggeration" by the media.
However, during a speech later in the evening, he admitted it "got a little bit testy."
Trump reportedly exploded and cut short the call when he was told about a Barack Obama-era deal to move refugees from Australia to America.
The president took to Twitter afterward to call the agreement "dumb," rattling a decades-old alliance.
"It's all worked out. It's been worked out for a long time," Trump said on Thursday, as the pair, dressed in black tie, smiled and swapped legislative war stories.
"We had a great telephone call. You guys exaggerated that call. That was a big exaggeration. We're not babies," Trump said during his first meeting with Turnbull, reverting to his favored tactic of media-bashing.
"We get along great. We have a fantastic relationship, I love Australia, I always have," he added.
Turnbull said that "we can put the refugee deal behind you and move on."
The pair convened on a decommissioned aircraft carrier, the Intrepid, to mark the 75th Anniversary of the Battle of the Coral Sea - and to steady the long-standing alliance after relations soured at a time of growing tensions in the Asia-Pacific.
The World War II fight against Japanese forces helped forge an alliance during which Australia has pitched in alongside the United States in every major conflict since.
Fence-mending
The crisis over North Korea's nuclear and missile programs and a fence-mending trip to Sydney by Vice President Mike Pence last month appears to have eased tension between the United States and Australia.
After meeting Turnbull, Pence had said the United States would take the refugees but added it "doesn't mean we admire the agreement."
A businessman-turned-politician like Trump, Turnbull has said he was "delighted" to meet with the US leader and affirm the relationship.
Trump, for his part, said he would be happy to travel Down Under, describing the United States and Australia as "rebellious children of the same parent."
"Oh, that will happen. It's one of the great, great places. It's one of the most beautiful places on Earth. I have so many friends there. I'll be there. We'll be there - absolutely we'll be there."
One of those friends is the media mogul Rupert Murdoch, who attended the dinner at which Trump and Turnbull spoke.
Trump regaled the crowd with stories about how he agreed to give the Fox News owner cash for a US-Australia charity.
Turnbull highlighted the close military ties between the two countries.
"We fight together in Iraq and Afghanistan to defeat and destroy the terrorists who threaten our way of life," he said.
"Today, Australians and Americans stand shoulder-to-shoulder defending our freedoms."
Despite the bonhomie, the advent of Trump has invigorated a debate over Australia's place in the world and whether its future lies with an unpredictable United States or a closer relationship with China, its top trading partner.
Several former senior Australian diplomats have urged Canberra to rethink ties with the United States in light of China's rise.
The icy start during Trump's first days in office was further cooled by Washington's withdrawal from a trans-Pacific trade agreement that would have given Australian businesses greater access to American and other key regional markets.
Follow Emirates 24|7 on Google News.