Trump praised for more measured speech, but Congress wants details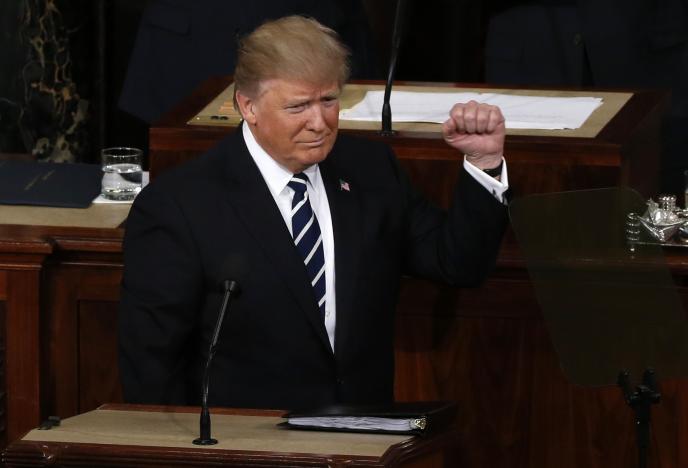 Donald Trump's muted prime-time address to Congress got positive reviews on Wednesday, but numerous questions remained about the details and costs of his ambitious agenda.
Americans reacted warmly to Trump's lengthy speech, in which he ditched the most bellicose of his rhetoric in favor of a call for national unity and a more presidential timber.
A CBS News/YouGov poll showed that 76 percent of those who watched the speech approved of what they saw.
Wall Street also voiced its appreciation, with the Dow topping 21,000 for the first time.
It was a substantial and much needed boost for the 70-year-old Republican president, whose approval rating is at a historic low for presidents after a month in office, and his embattled White House.
Trump - ever-aware of his image and popularity - fired a triumphant "THANK YOU!" message to his 25 million Twitter followers Wednesday morning.
To keep the momentum, the White House postponed the unveiling of a controversial new ban on travelers from mostly Muslim countries, which would have dominated news coverage.
It also pared back Trump's public remarks and held its daily press briefing off-camera.
The speech - staunchly nationalist, but delivered in a more measured tone - may help soothe a deeply divided country.
In the nearly six weeks since Trump took office, political polarization in America has reached fever pitch.
Trump's supporters have flung themselves into the cause, hoping the election of an outsider will shake up the elites and insider politics in Washington.
But among opponents, there is still a sense of disbelief that a billionaire with what they see as authoritarian tendencies and no political experience is in charge of the world's pre-eminent superpower.
According to Gallup, there has been a steady increase since November's election in the number of Americans experiencing worry on any given day.
'Really pleased'
An estimated 48 million people tuned in to watch Trump's speech, according to the Nielsen ratings firm, lower than the some 53 million who watched former president Barack Obama's first joint address in 2009.
Trump's speech was welcomed by the hundreds of mostly Republican lawmakers who witnessed it firsthand in Congress.
"I think we were all really pleased last night to hear the president's unifying message. It was refreshing for everyone after such a difficult election season," Senator Majority Leader Mitch McConnell said on the Senate floor.
Americans, he said, are "ready for a new start."
Trump brought Republicans and Democrats together by strongly criticizing recent threats against Jewish community centers and condemning the seemingly racially motivated killing of an Indian immigrant.
He also reached out to opposition Democrats, reprising his call for a $1 trillion infrastructure bill and expressing support for paid family leave and affordable child care.
Attention will now turn to how Trump can meet those pledges - along with goals to "restart" the US economy, boost defense spending and reduce violent crime.
While he promised to replace his predecessor's landmark health care reforms with a plan that would broaden choice, lower costs and improve access, he offered little in terms of how that would be achieved.
Words and deeds
Democrats expressed skepticism about whether the change in tone would last.
White House spokesman Sean Spicer reinforced the fear by insisting, "It was not a reset speech."
"With Donald Trump, the speeches don't mean very much," Senate Democratic leader Chuck Schumer told CBS News.
"His speeches are populist. They're aimed at the working folks who supported him. But his governing and what he does is hard right, favoring special interests over the working class."
Trump's plans on infrastructure, health care, and high-stakes tax reform will likely run afoul of fiscal conservatives, who are intent on bringing down the national debt, which will hit $20 trillion on Trump's watch.
He also wants to hike defense spending by $54 billion, offsetting it with cuts to foreign assistance and other non-military spending.
That issue is likely to be front and center as Trump visits military shipyards in Virginia on Thursday.
The "deficit spending" that Trump would likely employ set off alarm bells for lawmaker Dana Rohrabacher, who said he was dumbfounded at the lack of opposition from his fellow Republicans at the potential for ballooning spending.
"The emphasis that Republicans have placed on (shrinking) the deficit is now going to be something that we will remember in the past," he said.
Some Democrats were also dismissive: "This plan doesn't add up," Senator Chris Van Hollen told AFP.
"A third-grade math student can see that you're going to blow a huge hole in the deficit if you do the things the president is talking about."
To square the circle, Trump - the consummate political outsider - may have to embrace Washington dealmaking.
Follow Emirates 24|7 on Google News.