Trump's daughter Tiffany to attend Georgetown Law School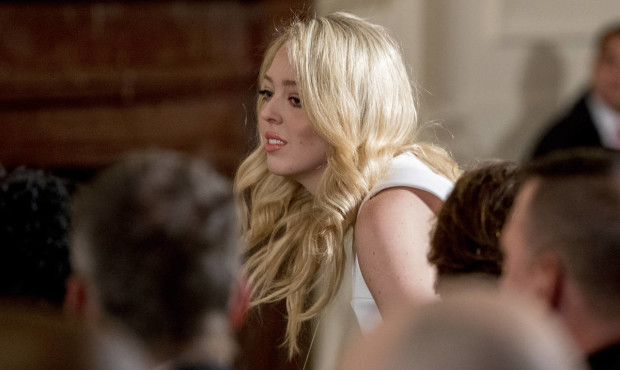 Another Trump is going to Washington.
Tiffany Trump, the youngest daughter of the president, will be enrolling at Georgetown University Law School this fall, according to her brother. Eric Trump, who revealed the school choice, received his undergraduate degree from Georgetown.
"Georgetown is an incredible school that has played a big role in my personal and professional development," Eric Trump told The Associated Press on Monday. "I am so proud of Tiffany and all that she has accomplished. She is an amazing young woman, a great sister and has a remarkable future ahead of her."
Georgetown's law school is located just blocks from the White House.
Tiffany Trump, 23, is the daughter of President Donald Trump and his second wife, Marla Maples. She graduated from the University of Pennsylvania, her father's alma mater, earlier this year.
The White House did not respond to a request for comment about Tiffany Trump's choice of a law school.
Largely due to her studies, Tiffany Trump was a relatively rare sight during her father's campaign. She did deliver a well-received speech at last summer's Republican National Convention that attempted to humanize her father beyond his gruff, all-business exterior.
"For me, the measure of a parent is based on how they support and bolster you when you're down," she said then. "A few years ago, someone very dear to me passed away, and the first call I got, as I knew I would, came from my father."
She also made a few appearances at rallies late in the campaign, particularly in Pennsylvania. She also attended the White House Easter Egg Roll last month, her father's speech aboard a World War II aircraft carrier last week and has made multiple visits to Mar-a-Lago, her father's coastal Florida estate.
Her arrival in Washington will make her the second Trump child to follow their father to the nation's capital.
Tiffany's sister Ivanka moved to Washington with her husband Jared Kushner earlier this year and have become two of the president's most influential advisers. Trump's two adult sons, Eric and Don Jr., remained in New York where they oversee their father's business empire.
And Trump's youngest son, 11-year-old Barron, has been living in New York with his mother, first lady Melania Trump. The White House said the two of them would move to Washington after the completion of the school year, but have not offered any details.
Follow Emirates 24|7 on Google News.