Trump scoops up votes, right and center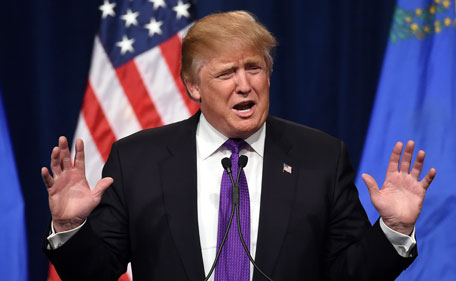 Donald Trump wins, wins, wins, just as he said he would. From ultra-conservative fringes to the Republican mainstream, the White House hopeful is assembling a formidable coalition of angry voters that could carry him to the party nomination in July.
"So we won the evangelicals. We won with young. We won with old. We won with highly educated. We won with poorly educated; I love the poorly educated," Trump exulted Tuesday night after his victory in the Nevada caucuses, accurately citing the findings of entrance polls there.
"Of course, if you listened to the pundits, we weren't expected to win too much and now we're winning, winning, winning the country. And soon, the country is going to start winning, winning, winning."
Trump's chances of accomplishing that are better now that he has shown he is not just a single faction candidate.
He has won nominating contests in three very different states: New Hampshire, where more than a quarter of voters described themselves as "moderates;" South Carolina, where three quarters of voters were evangelical Christians; and Nevada, where 15 percent of voters were "non whites," the highest proportion of minorities to date in the primaries.
He has the wind in his sails in the 11 states that vote in Tuesday's primaries, including Texas and much of the South. A quarter of the delegates to the Republican nominating convention are in play on so-called "Super Tuesday."
With Trump increasingly confident and his rivals scrambling, talk on Wednesday turned to whom The Donald might pick as his running mate.
While he said it was too early to name names, he told a Q&A session at Regent University in Virginia that he wanted "somebody that's political," an established figure who knows Washington and is a contrast to Trump's own outsider status.
Meanwhile Senators Marco Rubio and Ted Cruz are fighting for second place, while Ohio Governor John Kasich and retired neurosurgeon Ben Carson are struggling to gain traction.
All five will be on stage Thursday for the final debate before Super Tuesday's primary bonanza, with observers wondering whether the knives will come out against Trump.
With Trump soaring, The Washington Post issued a startling editorial Wednesday demanding Republican leaders coalesce to prevent "the unthinkable" from occurring.
"History will not look kindly on GOP leaders who fail to do everything in their power to prevent a bullying demagogue from becoming their standard-bearer," the board wrote.
Rejection of elites
In each early voting state, pollsters asked a sampling of Republican voters if they were "angry" or "dissatisfied" with the federal government: about 90 percent said yes.
It is this well of discontent that Trump has tapped more successfully than any of his predecessors.
Cary Covington, a political scientist at the University of Iowa, sees a thread linking the current mood to the "law and order" movement in 1960s, the Ronald Reagan Democrats of the 1980s, even the "moral majority" of the 1990s.
What they all have in common, he says, is that beyond their disappointment with the Republican Party's perceived failure to deliver on its conservative promises, these voters are disillusioned, disenchanted.
"One enduring and incredibly large pattern that has been occurring over the last 30, 40 years has been the eroding trust that Americans have in their political institutions," Covington told AFP.
"The well is tainted for the Republican Party, no matter who the Republicans put up," he said. "If it's seen as someone connected to the establishment that has in their eyes lied to them time and time again, that person is unacceptable."
The party's previous nominee, Mitt Romney, appeared eager to badger Trump Wednesday, suggesting there was a "bombshell" hiding in his tax returns and that they should be released so voters can "decide who our nominee ought to be."
Trump swiftly dismissed Romney as a "fool."
Ideological flexibility
In theory, Republican support for Trump was supposed to hit a ceiling, but in Nevada it appears he crashed through it. He won 46 percent, far more than the roughly 30 percent he had typically polled before.
Polls also indicate that among Hispanic voters, who accounted for eight percent of Republicans voting in Nevada, 46 percent backed Trump. So part of the Latino electorate appears not to have been put off by Trump smearing Mexican immigrants as criminals and rapists.
Trump may have further room to grow because he is not ideologically rigid. He was a Democrat for a long time. This year, on issues like gun control and abortion, he is ultra-conservative.
But he also knows how to lure centrists. He has said repeatedly he wants to abolish President Barack Obama's signature health care reforms. At the same time, he promises that under a Trump presidency, "people are not going to die in the middle of the street."
Trump on Wednesday landed his first congressional endorsements, from House Republicans Chris Collins of New York State and Duncan Hunter of California.
"I think it's pretty clear. We're going to embrace whoever the nominee is," Republican National Committee chairman Reince Priebus told CNN.
Follow Emirates 24|7 on Google News.