Trump will skip Barbara Bush funeral, sending first lady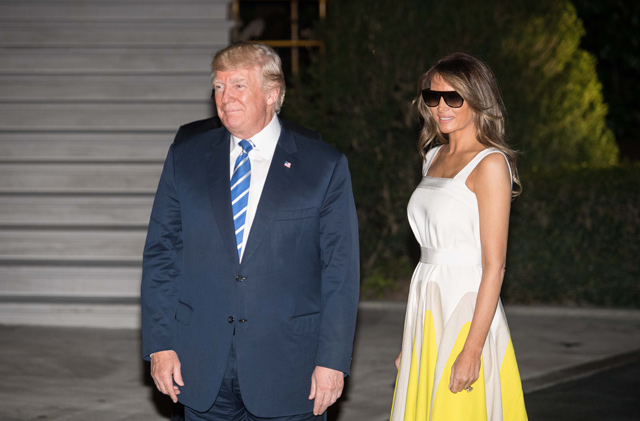 President Donald Trump won't be joining his wife in attending the memorial service of former first lady Barbara Bush, matriarch of a political dynasty that Trump often clashed with during his 2016 campaign.
The White House said Thursday that Trump would not attend "to avoid disruptions due to added security, and out of respect for the Bush Family and friends attending the service." Trump is expected to be at his Florida estate this weekend during Saturday's funeral in Houston for the wife and mother of presidents.
Flags have flown at half-staff over the White House and at Trump's Mar-a-Lago estate in Florida since Bush's death at the age of 92, and Trump added his voice to the tributes that have poured in for the wife of President George H.W. Bush and mother of President George W. Bush. Trump offered his condolences to the Bush family on Wednesday, calling Barbara Bush "a titan in American life. Her presence and character were engraved into America's identity."
The magnanimous comments stood in contrast to the fractious words that flew between Trump and the Bush family when the businessman-turned-presidential candidate effectively conducted a hostile takeover of a Republican Party once ruled by the Bush family.
During his anti-establishment presidential campaign, Trump often held out the Bush family as an example of the political status quo, and wielded anti-dynastic sentiment against both Jeb Bush, one of Trump's vanquished Republican rivals, and Hillary Clinton, his Democratic opponent.
Barbara Bush, for her part, said in a February 2016 interview with CBS News that Trump was like a "showman" and she didn't "know how women can vote for someone" like him.
Intermediaries describe little semblance of a relationship between Trump and members of the Bush family and a presidential appearance at the funeral would have brought more attention to the 2016 primary fight and potentially distracted from Barbara Bush's life and legacy.
Follow Emirates 24|7 on Google News.