Tunisia takes steps to halt 'security breakdown'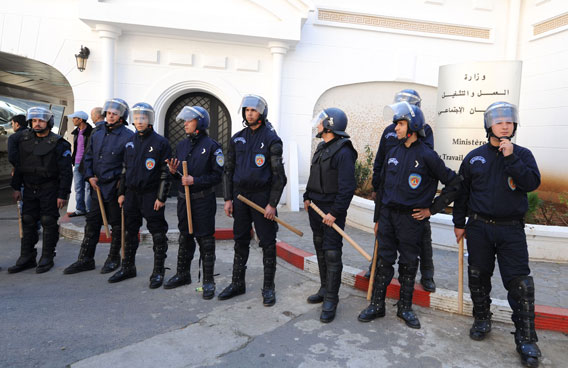 Tunisia suspended activities of the former ruling party on Sunday, saying it acted to prevent a breakdown in security after some of the worst unrest since the president was ousted in a revolt last month.
Security officials in the coalition government put in place after President Zine al-Abidine Ben Ali fled to Saudi Arabia have said there is a conspiracy by officials close to the old administration to spread chaos and take back power.
The latest in several days of clashes that have raised questions about whether Tunisia is returning to stability after Ben Ali's departure. One man was killed during a protest and there were clashes with security forces in two other towns.
"The minister of the interior has decided to suspend all activities and all meetings of the RCD (former ruling party) and to close down all its offices pending a judicial decision on its dissolution," said an Interior Ministry source.
"(This is being done) because there is an extreme need and in order to prevent a breakdown of general security and to protect the higher interests of the country," said the source, who declined to be named.
Security officials had earlier suggested that functionaries from the party - which was Ben Ali's power base but is now shunned by those in power - were involved in attempts to destabilise the country.
HALTING PROGRESS
Tunisia's uprising against Ben Ali's authoritarian rule inspired protest movements elsewhere in the Arab world, including in Egypt, and its halting progress towards a more democratic system is being watched closely in the region.
Stability has gradually been returning to the country of 10 million after weeks of unrest before Ben Ali fled and several days of lawlessness afterwards.
However, there has been a fresh flare-up of violence and protests in the past few days.
The Interior Ministry source said a man died after being hit by a tear gas grenade during clashes in Kebili, about 400 km (250 miles) south of Tunis, between police and protesters angry at the appointment of a new regional governor.
There were renewed clashes in the northern town of El Kef, where on Saturday two people died when police opened fire to quell a protest.
Young men there on Sunday set fire to a police station and tried to march to the town prison before the military intervened to stop them, the official TAP news agency reported.
The news agency also reported that in the town of Gafsa, in central Tunisia, soldiers had to evacuate a newly-appointed regional governor in one of their vehicles after his office came under siege by protesters.
The protests over new regional governors are likely to worry the government because they were appointed in response to popular pressure for a purge of Ben Ali loyalists.
In the other violent incident of the past few days, townspeople in Sidi Bouzid protested after two men locked up inside a police station there were killed on Friday when the building caught fire.
Follow Emirates 24|7 on Google News.