Turf war feared after Syrian rebel leader killed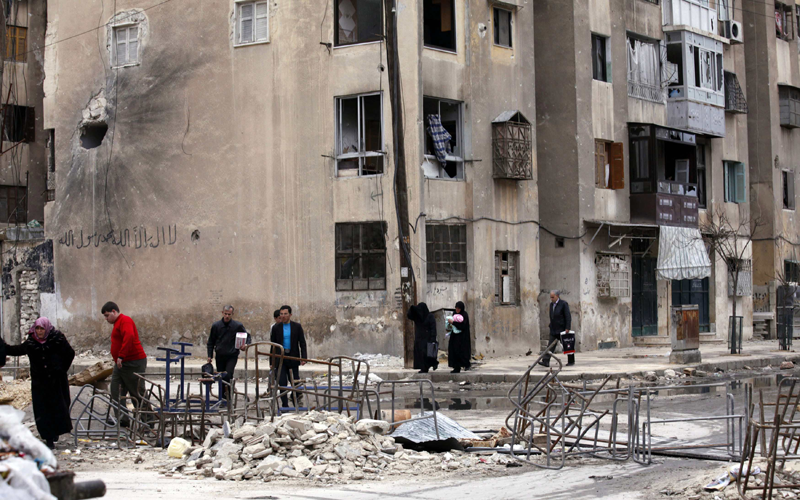 The killing of a senior Islamist rebel commander near Syria's border with Turkey could indicate a turf war between armed groups that will hamper their struggle to overthrow Syrian President Bashar al-Assad, sources told Reuters.
Thaer al-Waqqas, northern commander of al-Farouq Brigades, one of Syria's largest rebel groups, was shot dead at a rebel-held position in the town of Sermin, a few kilometres from Turkey, early on Wednesday morning, rebel sources said.
Al-Waqqas, they said, had been suspected of involvement in the killing four months ago of Firas al-Absi, a main jihadist leader in al Qaeda-linked al-Nusra Front, which Washington dubbed a terrorist organisation in December.
In addition to chronic supply problems and a shortage of financing and heavy weapons, the lack of unity among Syria's rebels has held back their efforts to dislodge Assad's forces.
"The assassins came in a white car, disembarked and riddled Waqqas with bullets as he was at a food supply depot," one of the rebels said.
He said suspicion immediately turned on Nusra.
"Absi's brother is a commander in (the city of) Homs. He vowed revenge for Firas, and it seems that he has carried out his promise," the rebel said.
"Farouq is in a period of mourning now. But it seems a matter of time before the clashes with Nusra erupt in Bab al-Hawa," he added, referring to the rebel-held border crossing with Turkey where Absi was killed.
The crossing is controlled by Farouq and its Sham Hawks Brigade ally. Nusra fighters are also present in the area, along with Muhajireen al-Sham, another rebel brigade allied with Nusra, according to rebels and opposition activists on the border.
There was already tension between groups like Nusra, composed mainly of former civilians and backed by foreign jihadists, and opposition groups such as Farouq that hold a larger proportion of defectors from the regular army and security apparatus, which some fear are more likely to be infiltrated by Assad's agents.
A new rebel command formed with Western, Arab and Turkish support in the Turkish city of Antalya in December appears to have done little to end divisions between the hundreds of rebel groups, especially in regions where Assad has lost control, in the northern provinces of Idlib and Aleppo near Turkey.
Nusra, Farouq and the Islamist Ahrar al-Sham - the three largest rebel organisations in the north - have stayed out of the new rebel command.
The U.S. State Department has said that Nusra is using the Syrian struggle for the "malign purposes" of al Qaeda and should not play a part in Syria's eventual political transition

"CONCENTRATE ON FIGHTING ASSAD"
Farouq is backed by the Muslim Brotherhood, which has emerged as the best organised and most effective political player in the wake of the Arab Spring revolts and has been clawing back influence in Syria since a military crackdown killed thousands of their number in the 1980s.
An official in al-Farouq Brigades said the killing of Absi was mysterious but acknowledged that it had marred ties with Nusra, but he did not blame Nusra for Waqqas's killing.
"The regime is behind the killing of Waqqas. We do not have any policy of targeting al-Nusra and we cooperate militarily in some regions with them," the official said.
"There is talk that Waqqas, in a personal capacity, was somehow involved in the killing of Absi, and it is very damaging. The situation in Bab al-Hawa is very tense now," he added.
Veteran opposition campaigner Fawaz al-Tello, speaking from Berlin, said inter-rebel violence would increase across opposition-held areas unless the political leadership of the opposition acts to contain the fallout from Waqqas's killing, which could include further tit-for-tat assassinations and draw in allies of the two groups.
"The way to prevent rebels from taking out each other is to have unified military commands by region under a political leadership that will be region-specific as well," he said.
"We have been seeing an attempt by Western and regional powers friendly to the revolt to build a unified military command from the top down and without logistics and support and without adhering to a political leadership. As if one creates commands and then asks people to join them," he added.
Another opposition campaigner, who did not want to be named, said rising conflict among the rebels had harmed their effectiveness, pointing to the failure of rebels to take army bases and airports in Idlib despite months of siege.
"In a way it is good the rebels are staring at military setbacks," he said. "Perhaps now they will realise that they should stop this nonsense and concentrate on fighting Assad."

Follow Emirates 24|7 on Google News.