Two dead as Tunisian police fires on protesters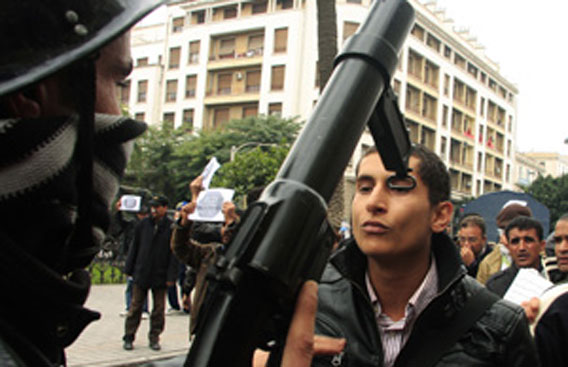 At least two people were killed and 17 others wounded in northern Tunisia on Saturday when police opened fire to quell a protest after a senior police officer slapped a woman in the face, official and media sources said.
The head of police in the city of El Kef was arrested after the shooting, an Interior Ministry source said.
Four policemen had been arrested earlier on Saturday on suspicion of links to the death on Friday of two civilians while in police custody in Sidi Bouzid, the epicentre of a popular revolt that ousted last month President Zine al-Abidine Ben Ali and reverbrated across the Arab world.
Public confidence in the police has been at a low since the revolt, with many Tunisians blaming police officers for killing protesters and associating them with the ousted president.
A rally by hundreds of protesters in front of the police station in El Kef, north of the capital Tunis, degenerated when they tried to occupy its premises, the ministry source said.
"About 1,000 people gathered in a protest in front of El Kef's police station to demand the dismissal of the head of the police in the city for power abuse while exercising his duties," the source told Reuters.
Witnesses told state-run television that the protest started after the police chief slapped a woman in the face.
Protesters later pelted the police station with stones and threw fire bombs at the force guarding the building. Footage on state-run television showed a police van on fire.
"The police fired to prevent the protesters from breaking into the station," the ministry source said.
Four policemen were earlier arrested in Sidi Bouzid on suspicion they were linked to the death on Friday of two civilians after a police station they were locked in caught fire, a ministry spokesman said.
A young unemployed man from Sidi Bouzid, Mohamed Bouazizi, set himself on fire in December to protest at his mistreatment by a police force member. He later died. His act started the anti-government protests which toppled Ben Ali.
Follow Emirates 24|7 on Google News.