Two dead, more injured after train hits truck in Italy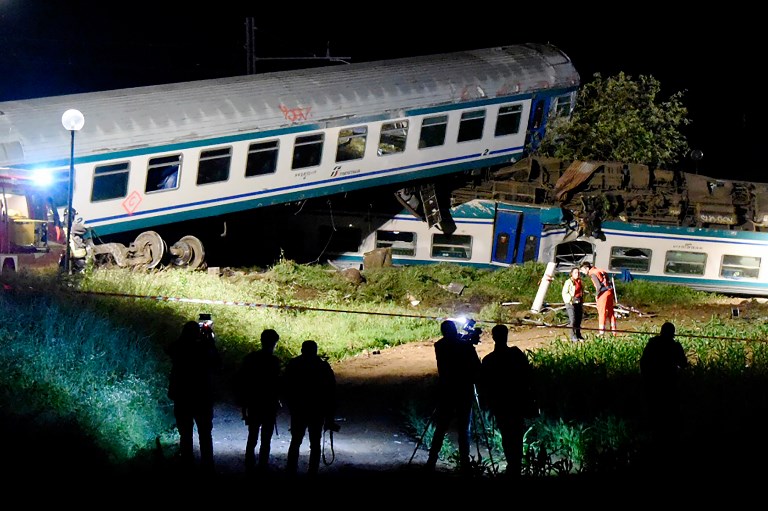 Two people were killed and many others injured after a train hit a large truck that was stuck on a railway crossing, causing multiple carriages to derail, local media reported.
The accident, in which the train driver was killed, occured late Wednesday in northern Italy close to Turin, with three of the train's carriages coming off the rails, according to television footage.
"The regional train 10027 Turin-Ivrea hit a heavy goods vehicle that had stopped on a functioning railway crossing after crashing through the barriers," RFI, which manages Italy's rail network, said in a statement.
"According to early information, the driver of the train was killed and many other passengers have been injured," the statement added.
According to the AGI news agency, the second victim was taken to a Turin hospital by helicopter with severe injuries but he did not survive.
At the time of the accident he was in a van accompanying the heavy goods vehicle, other media reported.
"Everything happened so fast, I felt the train break suddenly and then I found myself in hell and around me everything was black," Paolo Malgioglio, 23, told le Corriere della Sera newspaper.
According to La Stampa newspaper, eye witnesses said the vehicle, which was registered in Lithuania, looked to be a particularly large and heavy truck.
The van that was in front of it passed safely through the level crossing but when the barriers started to come down, the vehicle failed to brake in time and came to a stop on the tracks, the newspaper said.
Many other people have been hospitalised, including four who are in a serious condition, local media reported.
AGI said one female passenger was in a serious condition after sustaining a head injury but she remains conscious.
It comes after another accident in April 2017 in the north that killed two people and resulted in the temporary closure of the main railway line between Italy and Austria.
In July 2016 a collision between two trains in the south of Italy left 23 people dead and 52 others injured.
Follow Emirates 24|7 on Google News.