UAE and Denmark to boost ties in sustainability and water conservation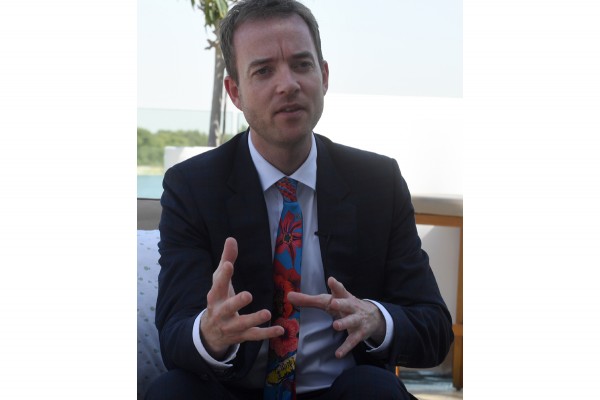 There are great potentials to increase cooperation between the UAE and Denmark in areas of sustainability, climate change, green energy and environment protection, Esben Larsen, Denmark's Environment and Food Minister, said.
In an exclusive interview with the Emirates News Agency, WAM, he added, "I am here on a three-day official visit mainly to discuss with several Emirati authorities on how to strengthen cooperation on regulatory framework, wastewater and waste handling and lowering both water consumption and non-revenue water."
Demark has a particularly strong profile and a long history of producing green technology and green energy and 37.6 percent of its electricity consumption in 2016 came from wind-power, putting the country well on the way to reaching a goal of 50 percent by 2020.
"We are also promoting some Danish business solutions that could be of interest for authorities and agencies in the UAE, taking in mind the strategic plans adopted by the government here for environment protection and sustainability," he said.
"The UAE is an attractive bridgehead between both parts of Asia, the Arab world and Africa that is why a lot of Danish companies have regular presence at the Gulfood, the world's largest food event that takes place every year in Dubai, and I was also there last time," he added.
On how Denmark sees the achievements made by the UAE in environment protection and green solutions, "We look with interest to the developments taking place in UAE, with focus on sustainable solutions from environmental prospective, because they show the world how you can rapidly develop an exciting country and at the same time lower your impact on the environment."
The Danish minister also said, "Demark is a country that has been through green transition and green development since the 1980s, so we have a lot of solutions that we want to share with the UAE." He added, "When it comes to making sustainable solutions that can be of interest globally, because climate and environment are of global interest, there are a lot of things to take care of together as two strong countries."
Figures released by the Royal Danish Embassy in Abu Dhabi indicate that the UAE was Denmark's 33rd largest export market for goods in 2016, with major export products including machines and accessories for machines, worth 410.5 million Danish krone (AED268.7 million). Export of organic products reached 612 million krone (AED373.2 million), with dairy products accounting for 40 percent of these.
Last year, total Danish exports to the UAE rose by 17.5 percent over the previous year's figure of 3.2 billion krone (AED1.95 billion), to reach a new record of 3.7 billion krone (AED2.26 billion). Over the next five years, according to the Confederation of Danish Industry, export growth is expected to be around three percent annually.
UAE exports to Denmark in 2016, mainly oil, amounted to 352.2 million, (AED214.8 million).
Follow Emirates 24|7 on Google News.