UAE holidaymakers eye Europe bargains as euro slides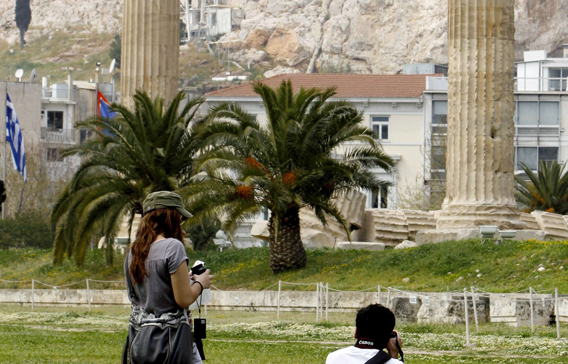 Planning a European summer holiday? The good news is, the sliding euro is allowing holidaymakers to make savings between five and 15 per cent on accommodation and travel in the approaching months.
According to research house Hopper's data for summer travel, flight prices for Europe are down more than 10 per cent in 2015, compared to last year.
However, with summer holidays around the corner, you will have to move fast to nab a good deal.
Look into cheaper international destinations by flying to a less popular European destination and use cheap internal flights or trains to more popular destinations like London or Paris.
Hungarian carrier Wizz Air flies to capital Budapest and Romanian capital Bucharest from Dubai World Central.
Booking a roundtrip ticket during the Eid Al Fitr week from Dubai to Budapest costs approximately Dh2,200, inclusive of checked-in luggage.
Several European budget carriers fly in and out of both countries to allow travellers to cap their flight expenses.
Similarly, British budget carrier easyJet offers year round trips to Europe from its base at London's Luton Airport in Bedforshire.
With several carriers flying already to London and offering competitive rates on the route from Dubai, this allows people to fly direct to one destination and catch a second flight after a few days to their final destination; think of it as an adventure to experience two countries simultaneously.
Carriers such as easyJet also state, if you find the same flight and hotel for less elsewhere, they will match it, plus give you an extra £10 (Dh57) off.
Procrastination will also drive up your summer ticket fares to Europe.
Hopper states average flight prices rise almost 10 per cent in the month before departure. Try to pick the cheapest time to travel, which is after mid-August.
Also try to fly mid-week, either Tuesday or Wednesday.

European picks on the cheap…

Bulgaria: According to a survey conducted by the Post Office Travel Money Holiday Costs Barometer, Bulgaria rates 'cheap as chips' for summer 2015, serving up a value deal for bargain-hunters, especially Sunny Beach that has recorded a 22 per cent slide in pricing compared to last year.
Flydubai flies direct to Bulgarian capital Sofia on Sundays and Wednesdays, with return airfares costing Dh1,500 during the week post Eid Al Fitr.

Austria: The land of history, art and culture, set foot in the majestic St Stephen's Cathedral or hop aboard its landmark, Giant Ferris Wheel.
Vienna has stories to be unearthed at every street corner, with many tourists also having the opportunity to explore the mysteries as they ride with a two-horse carriage. There is almost no cosier way to explore Vienna's attractions.
Etihad Airways flies direct to Vienna from Abu Dhabi, with roundtrip fares from July 18 to July 27 costing Dh3,150; fly a week earlier and the airfare drops by Dh900.

Greece: The Greek Islands are also looking strong contenders this year with Crete (Dh300, fifth in table) and Corfu (Dh355, sixth place) showing barometer price falls of 14.1 per cent and 19.7 per cent respectively, according to the survey.
In Crete the cost of an evening meal for two with drinks is down by 25 per cent.
Those looking for an ideal itinerary can fly into Athens and take the ferries to the islands if budget is tight; otherwise domestic flights booked in advance can help you bag a bargain too.
Emirates flies direct to Athens from Dubai, with roundtrip fares from July 18 to July 27 costing Dh3,752; fly a week earlier and the airfare drops by Dh150 with the carrier, while Turkish Airlines costs Dh2,616 via Istanbul.
Cyprus: There is good news too for tourists visiting Cyprus. Successive Post Office reports have noted price cuts in its resorts and the latest barometer reveals a fall of 12.1 per cent since last spring in Paphos (Dh313) and over 30 per cent compared with 2013.
The survey also indicates prices in Paphos are now 17 per cent lower than in inflation-hit Turkey where visitors can expect to pay 21 per cent more than last year.
Qatar Airways flies from Dubai to capital Larnaca via Doha, with airfares costing Dh1,880 during Eid week.

Poland: Krakow continues as Europe's best travel bargain for holidaymakers.
The low prices and the wide options of great hotels on the cheap, along with hostels for those looking to bag a deeper bargain, Krakow makes for a good Polish stopover; plus, you must put this one on your list before demand notches up the price tag like in Barcelona, Prague and Budapest.
While Krakow is the place to be in Poland, do take time to explore the country's capital city, Warsaw.
In addition to reasonable prices, explore the Old Town centre rebuilt after WWII to resemble its former self. Other must-see attractions include the Branicki Palace and the Fryderyk Chopin Museum. If you like to take a trip down memory lane, check out the National Museum, the Royal Castle, and the Narrow Gauge Railway Museum too.
Emirates flies direct to Warsaw with fares approximately Dh4,300; Aeroflot flies to Warsaw via Moscow, with ticket prices from Dubai costing approximately Dh2,500.
Follow Emirates 24|7 on Google News.