UAE law for use of unmanned aircraft in final stages: Gergawi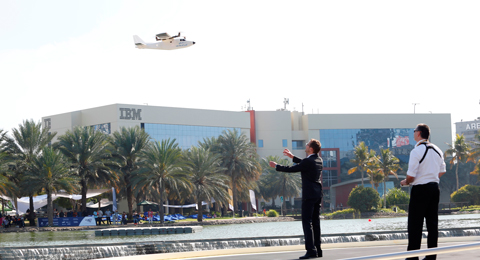 UAE's Minister of State for Cabinet Affairs, Mohammed Abdullah Al Gergawi, says that a law for the use of unmanned aircraft in the country, in cooperation with the Civil Aviation Authority, is in its final stages.
He said the law will determine uses, which include height and places permitted for use.
It will also determine recreational, commercial and scientific licenses for the use of unmanned aircraft.
During a meeting with the media Gergawi said the goal of the contest, launched by His Highness Sheikh Mohammed bin Rashid Al Maktoum, Vice-President and Prime Minister of the UAE and Ruler of Dubai, is to harness drone technology to facilitate people's lives, whether in the country or in the world.
Gergawi made the comments on the sidelines of the 'The UAE Drones for Good Award' competition being held at Dubai Media City.
NYU Abu Dhabi's Wadi drone team wins national award
New York University Abu Dhabi students have taken top honours at the national UAE Drones for Good Award with their Wadi Drone submission, which leverages commercial drone technology and proprietary software for wildlife conservation and environmental protection.
The Wadi Drone collects data in regions where deploying communications infrastructure would spoil the natural heritage, or present a human risk to physically retrieving data. The Wadi Drone is a fixed wing airplane with a 2.5-metre wingspan carrying a small communications payload that retrieves information from ground-based scientific measurement devices.
Created by the UAE Government, the UAE Drones for Good Award invited the most innovative and creative minds from around the world to find solutions that will improve people's lives and provide positive technological solutions to modern day issues. The National competition is dedicated to rewarding the best, most practical ideas for using Unmanned Aerial Vehicle (UAV) technologies to improve government services in the Emirates.
The Wadi Drone team is comprised of four NYUAD students: Martin Slosarik, Ting-Che Lin, Vasily Rudchenko, Kai-erik Jensen. Matt Karau, a visiting instructor and research associate, is the team's faculty adviser. The team collaborated with the Emirates Wildlife Society and the country's first national park, Wadi Wurayah National Park located in Fujairah, on the development of the Wadi Drone.
Martin Slosarik, studying electrical engineering at NYUAD, said, "We developed the idea for this project in careful consideration of where drones can and should exist to do good for the benefit of society. It is a great honour to win the national UAE Drones for Good Award, and we applaud the UAE Government and His Highness Sheikh Mohammed Bin Rashid Al Maktoum, Vice-President and Prime Minister of the UAE and Ruler of Dubai for creating a competitive environment that invites thinkers and tinkerers from around the world to deeply consider the role drones may play in achieving innovative solutions and positive outcomes for humanity."
In Wadi Wurayah National Park the drone flies over mountains and through valleys to wirelessly download photographs taken by ground-based camera traps that automatically capture images of wildlife as they pass in front of the camera's motion sensor. The Wadi Drone serves the conservation efforts of the Emirates Wildlife Society both by increasing the rate at which photographic data of wildlife and potential poachers can be analysed by experts, and by reducing the human risk associated with the current method of hiking to retrieve photos from remote camera traps. Wadi Drones further eliminate the need to employ an expensive helicopter to reach camera traps during the summer months when the heat makes it too dangerous to hike.
Working with the Emirates Wildlife Society, the team will use the AED 1 million prize to implement the Wadi Drone project in Wadi Wurayah National Park, and will look to expand the programme regionally, and internationally.
Earlier report
10 contestants race to final round

'The UAE Drones for Good Award' announced that five contestants each from the International and National competitions of the award have qualified to the final round as 39 semi-finalists demonstrated their projects live in front of a panel of high profile international judges at a specially organised event in Dubai Internet City today.
The five finalists in the International Competition are Flyability's Collision Resistant Drone (Switzerland); Quantum – Transition UAV (Germany); BioCarbon Engineering's 'Drones for Planting 1 Billion Trees a Year' (UK); Skynet's Delivery Catchment System (Australia); and Innova's Dronlife (Spain).
The five projects that entered the final round of the National Competition are Health Sector Drones by Mashaal Marzouki and Saeed Alnathari from the Dubai Health Authority; Fully Automated Parking System by Mohammed Darweesh; Sanad by Mansour Al Balooshi, Wadi Drones by Matt Karau, and Site Inspection Drone by Eman Obaid Abdullah.
The Flyability team from Switzerland scored 81% with its Gimball, a drone that can enter confined spaces and fly safely close to humans, proving to be very effective in rescue missions. Gimball is capable of colliding with obstacles without losing its stability and is protected by a rotating cage, making it possible to fly very close to humans.
Quantum – Transition UAV project from Germany, which scored 80.3%, combines the advantages of a helicopter with that of a fixed-wing plane to create a drone that can fly longer, further and safer. Due to its high payload capacity and the ability to travel more than 500 km, the Quantum drone can be deployed in a number of areas such as agriculture, humanitarian aid, disaster relief and logistic purposes. What makes the Quantum safe, effective and economical is that even in the event of total power-loss it can glide to a safe landing.
BioCarbon Engineering's 'Drones for Planting 1 Billion Trees a Year' project from the UK scored 75.4%. The project uses emerging UAV technologies to replant deforested areas at significantly lower costs and higher planting rates. It could be useful not only in commodity planting activities in lumber and pulp and paper sector, but also help mining companies, NGOs and governments in rehabilitation efforts.

Skynet's Delivery Catchment System project eliminates the need for a large yard for drones to make package deliveries. The project from Australia which won a score of 75% not only makes drone delivery accurate by the millimetre but makes it safer at the same time.

Spain's Dronlife team's drone can transfer organs for transplantation from the donor centres to the receiver in the shortest period of time and as efficiently as possible, keeping the organ alive and reducing chances of rejection. The drone which scored 72.7% can coordinate the communication between hospitals and create a digital database to collect and organize all the data, streamlining the process and reducing costs and possible document losses.
National competition
Among the five finalists in the National Competition, Mashaal Marzouki and Saeed Alnathari from the Dubai Health Authority offered to employ drones in the provision of government services in healthcare. Their project, which received 74.6% score in the semi-final round is focused on delivery of portable medicine bags, first aid, and medical test results. It is also capable of delivering licences and health cards and transferring therapeutic packages.
Mohammed Darweesh has offered to improve paid parking service using drones to make the service fully automatic. Darwish's drone, which received a score of 74.2%, can monitor car parks in designated areas and report car park violators.
Mansour Al Balushi's 'Sanad' drone, which scored 72.6%, is dedicated to rescue operations and other civil defence services. Sanad, an Octa Copter that is controlled using an iPad, can fly over large areas and conduct surveys across 5 square kilometres.
Wadi Drones by Matt Karau, which scored 67.7%, has the capability to document the vast diversity of the UAE's wildlife by gathering images of different flora and fauna in the valleys.
Eman Obaid Abdullah's Site Inspector Drone is designed to monitor new construction sites. It scored 67.1% in the semi-final round.
The finals of the biggest award in civilian application of drone technology will be held tomorrow, February 7, 2015, at the same venue in Dubai Internet City with the winners getting to take home US$1 million in prize money in the International Competition and Dh1 million in the National Competition.
A winner will also announced in the UAE Government Entities Award, a special category exclusively designed for UAE Government Entities and Departments to recognize the best and most practical examples of using UAV technologies to improve government services. Unlike the National and International Competitions, this category does not carry a financial reward.
Follow Emirates 24|7 on Google News.