UAE ministry declares watermelons safe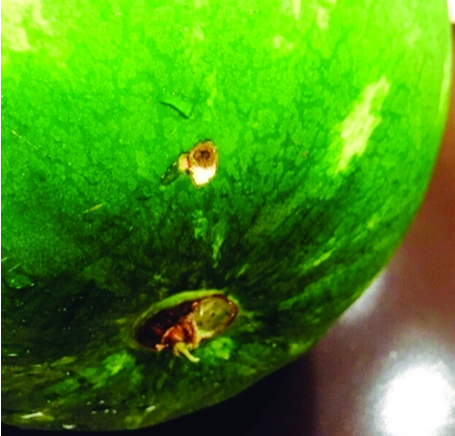 Watermelons dumped in UAE markets are safe as they are free of any pollutants, according to the ministry of environment and water.

The ministry, reacting to reports and public fears, said that radon tests on the fruits imported from Iran and other countries showed they do not contain any chemical substances, insecticides or other pollutants.

"Tests also showed the melons are radiation free. The holes found on the fruit were caused by an insect infection," the ministry said in a statement.
Earlier report
Iranian watermelons have disappeared from wholesale markets, cooperative societies, supermarkets and groceries in Abu Dhabi, the 'Al Bayan' Arabic language newspaper has reported.

The disappearance follows the decision of the Abu Dhabi Food Control Authority (ADFCA) to ban sale of melons imported from Iran.

Abu Dhabi Cooperative Society, which has 11 branches in Abu Dhabi and has 40 per cent share of the market, confirmed that it is urgently trying to import Egyptian melons.

According to the newspaper, the decision to ban the sale of Iranian melons has led to a significant rise in the price of Jordanian watermelons from Dh2 to Dh5 per kg in shops Al Mina City and Madinat Zayed in Abu Dhabi. In small groceries, the price has reached Dh6.

However, traders in Abu Dhabi told Al Bayan that prices of some vegetables from Iran had shot up by 200 to 350 per cent. Iranian lettuce had jumped from Dh3 to Dh10 a kg and eggplant from Dh4 to Dh9 while cucumber has risen fromDh3 to Dh7.

Commodity prices in groceries are up to Dh3 per kg higher than markets in Al Mina City and Madinat Zayed.

Traders in Al Mina market expect prices of most vegetables to rise in the coming weeks. They say that prices of vegetables and fruits rise in UAE in summer as arrivals from Lebanon, Syria and Jordan decline.

EARLIER REPORT
'Infected' watermelon alert in Fujairah
An alert has been issued in Fujairah over watermelons not fit for consumption, 'Al Bayan' reports.
Abdullah AH Deputy Director General of Fujairah Municipality, said that the municipality was acting on an circular issued by the Ministry of Environment about imported watermelons which have holes in the outer shell.
The call is to have these withdrawn from the market immediately.
Some of these melons were found at a Friday market in Fujairah and were confiscated.
He added: "For the rest of the markets and shops inspection campaigns will continue and will include all sales outlets in the emirate.
Should anyone see these melons, a 24/7 toll-free number – 80036 – is available to call in Fujairah.
Follow Emirates 24|7 on Google News.