UAE's Dutch community in Royal farewell to Queen Beatrix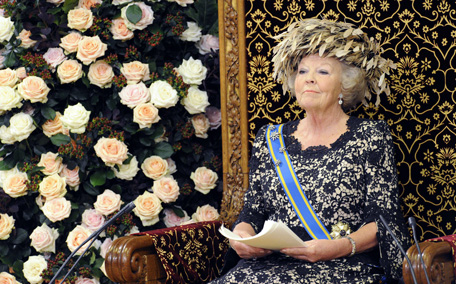 On Monday night you would have found most Dutch residents of the UAE in front of a TV, which through the broadcasting of the Dutch/Belgium BVN channel allowed for an evening of patriotism and nostalgia.

"As Queen Beatrix announced on Monday that she will abdicate in favor of her son, the subject immediately became trending topic on Twitter worldwide.
"The general opinion was that the Queen did a wonderful job and many people have thanked her personally for all the hard work she's done over the past 33 years.
"On Tuesday morning all the Dutch newspapers paid tribute to Her Majesty, and called her a hardworking lady with a strong character and 'a mother of the nation'," says Gerard Michels, Ambassador of the Kingdom of the Netherlands to the UAE in response to the announcement.

In case of most people, Queen Beatrix served the country for a great part of their lives.

"This is quite a unique moment. It is something special," says Willem Arntz, a Dutch resident who has lived in Abu Dhabi for the past 24 years.

"I still remember when she took the throne, I can still see the images. The ceremony made quite an impression on me back then," he admits.

The ambassador said: "Queen Beatrix has reigned over the Dutch for more than 30 years; she has been our Head of State for all of my professional life.

"She was absolutely dedicated and committed both as a Queen and on a personal level. I was privileged to observe these qualities during Her Majesty's highly successful state visit to the United Arab Emirates in January 2012.
"She prepares herself thoroughly and takes a deep interest in people she meets and their culture. And it's a genuine interest.
"During our annual reception two weeks ago in the Netherlands, she called me to her and asked extensively after the UAE. So yes, for me it's the end of an era and at the same time the beginning of a new one."

Although Dutch residents agreed that it was an expected decision which had to be taken sooner or later, many were surprised by the timing of her announcement.
"For a long time there had been rumours of her stepping down, and she did not. This year there were no rumours," said Anita Meijer, a long term Dutch resident of Abu Dhabi.

"But I think it is nice that she has chosen this time to announce the abdication," she adds. As many expats in the UAE she is not willing to miss 'watching' the ceremony of the passing of the crown to Prince Willem Alexander on April 30, 2013.

"I will have to watch it on TV, but I would rather be in The Netherlands to witness this ceremony," says Anita.

On April 30, The Netherlands will witness the becoming of the first king after three generations of queens. The celebrations coincide with the celebrations of what until now has been called 'Queens Day', referring to the birthday of previous Queen Julianna.
"In 2014 Queen's Day will become King's day, for obvious reasons. As the Netherlands has had three reigning queens in a row (from 1898 onwards) the new name, King's Day, will take a little getting used to. The date will also change somewhat from 30 April now to 27 April, that is the future King's birthday," informs Michels.

Although most people are following the historic event closely, others were less pleased by the continuous reports from the homeland. "I do not have that much of an affiliation with the ruling house," says MK, a long-term resident in Abu Dhabi.

"I think Willem Alexander will make a good King and Maxima a good Queen. But I do not need to hear about it over and over again on TV. All my programmes were canceled last night."
Follow Emirates 24|7 on Google News.