UAE to lift entry visa requirement for Canadians from next month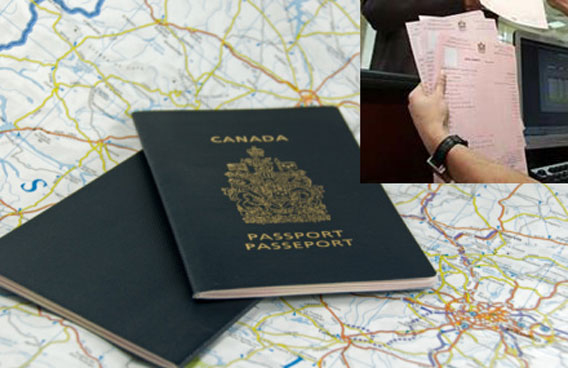 The UAE and Canada on Tuesday signed agreements of strategic interests including restoring the old visa regime.
Sheikh Abdullah bin Zayed Al Nahyan, UAE's Foreign Minister, met today John Baird, Foreign Minister of Canada, who is currently on a visit to the UAE.
During the meeting, Sheikh Abdullah and Baird discussed UAE-Canadian relations and the ways to enhance them to serve the mutual interests of the two countries.
The UAE and Canada are keen to build the strategic relations and cooperation in many fields such as trade, health, higher education, infrastructure, security and peaceful nuclear energy.
Some 40,000 Canadians live and work in the UAE, and over 150 Canadian companies have chosen the UAE as their base of operations for the wider Middle East and North Africa, MENA, region because of the UAE's well-developed infrastructure, business-friendly environment and its geographical position, allowing easy access throughout MENA, the South Asian countries, Central Asia and sub-Saharan Africa.
The UAE-Canadian commercial relationship is one of the most important in the region. The UAE is the top export destination for Canadian goods and technology in the MENA region, and among Canada's top 20 export markets globally. Trade activities and investments are diversified across many sectors, including aerospace, information and communications technology, health, education, defence and security, services, oil and gas and environment.
The UAE and Canada also signed a nuclear cooperation agreement in September 2012.
Later, Sheikh Abdullah and Baird paid a visit to the Canadian restaurant Tim Hortons, in Abu Dhabi Mall.
Sheikh Abdullah bin Zayed Al Nahyan, Foreign Minister and Canadian Foreign Affairs Minister John Baird, later today issued the following joint statement: "Just over a year ago, we set out an agenda between our countries to strengthen and re-energize the Canada-U.A.E. relationship.
"To that end, we set three goals. First, sign a nuclear cooperation agreement. Second, launch a Canada-U.A.E. business council. And third, facilitate travel requirements to increase business, tourism and joint prosperity for our citizens, by restoring the visa regime. We are pleased to announce that we have accomplished those goals, which will be formalized in the next month.
"As strategic partners, Canada and the U.A.E. can make significant contributions toward the goal of achieving stability and prosperity across the region. We will do so by developing a strategic agenda based on the following core themes: 1. Prosperity 2. Security 3. Development "Within the next six months, our governments commit to explore concrete goals in each of these areas. At the end of this period, senior officials will report back to the ministers of foreign affairs with recommendations on how our strategic alliance can be strengthened.
Prosperity
"More than 150 Canadian companies are currently engaged in the U.A.E., the region s hub for trade and commerce. Likewise, U.A.E. companies such as Abu Dhabi National Energy Company (TAQA) are working in Canada on the cutting edge of technology, pioneering new and sustainable innovations in energy. We have signed key economic agreements that significantly enlarge the spectrum of our cooperation, such as the nuclear cooperation agreement; and memorandums of understanding on innovation and sustainable technology.
"In addition, our two countries have launched a Canada-U.A.E. business council. Our citizens and companies can benefit from and contribute to each other's prosperity. Today, we are announcing the nomination of the Emirati and the Canadian co-chairs of the Canada-U.A.E. Business Council CUBC: Abdulla Saif Ali Slayem Al Nuaimi, Vice-Chairman of TAQA, and Gordon Nixon, President and Chief Executive Officer, Royal Bank of Canada. The CUBC will identify opportunities to enhance our commercial relations, advancing the private sector s ability to secure new opportunities." In May, U.A.E. Minister of Economy Sultan bin Saeed Al Mansouri and Canada s Minister of International Trade and Minister for the Asia-Pacific Gateway, the Honourable Ed Fast, will meet to inaugurate the CUBC and discuss next steps in the economic partnership. The CUBC will meet at least twice, once in each country, and will report to ministers with recommendations by the end of 2014.
Security
The foremost obligation of any government is the security of its own people, and our strategic relationship will strengthen cooperation in this area between our two countries. Canada s Public Safety Minister, the Honourable Vic Toews, met with Sheikh Saif bin Zayed Al Nahyan, Deputy Prime Minister of the U.A.E. and Minister of Interior, in February to share knowledge and experience in rule of the law, law enforcement and security. Both ministers agreed that Canada and the U.A.E. will strengthen cooperation on police, corrections and border matters, including training opportunities. We look forward to concrete measures being announced in the near term.
"We have taken action together to support stability in the Middle East, and we share deep concerns about prevailing forces behind threats to stability in the region. We are committed to working together against nuclear proliferation, and we call on Iran to address concerns surrounding its nuclear program by cooperating fully with the international community and, in particular, the International Atomic Energy Agency and engaging meaningfully with the P5+1 process."
The international community must act effectively and responsibly to address threats to regional stability, including the brutal actions of the Assad regime against the people of Syria. Canada and the U.A.E. will look together at the principal threats to regional security, and work closely in strengthening stability during the transitions in the region.
"Canada welcomes the creation of a new ministry for international development and cooperation in the UAE, led by Sheikha Lubna bint Khalid Al Qasimi. Canada s development minister, the Honourable Julian Fantino, accepted an invitation to visit the UAE later this month, where he will explore opportunities in development assistance with Sheikha Lubna. This will be the inaugural of many constructive meetings toward collaborating in our mutual objectives to reduce poverty and create prosperity in the developing world by investing in economic development."
"We find ourselves at a historic crossroads in the region and globally: between an opportunity to promote prosperity, security and development and the threats posed by extremists, conflict and poverty. It is essential for Canada and the U.A.E. that we continue to build our strategic partnership for the future. Through this partnership, our citizens will realize a world of increased prosperity, security and opportunity."
ALSO READ:
Man sets snoring wife's pants on fire



Indian kills wife, dumps body in bag and flees



84% Emiratis admit water wasted in UAE
Follow Emirates 24|7 on Google News.