UAE weather alert: Windy gusts push motorists to drive slow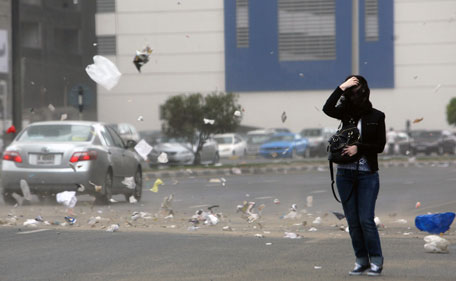 Motorists in the emirates have to drive with extra caution today. The windy conditions on the road tend to have an adverse effect on the vehicles moving at high speed along the roads in the UAE.
The weatherman forecasts the wind speed to decrease gradually by Monday night and Tuesday morning inland.
Several motorists have reported experiencing tough driving conditions on the streets of Dubai since Sunday afternoon due to the high velocity of the wind coming into the land from the sea.
Vehicles tend to swerve in the direction of the wind on the roads that run parallel to the sea. Drivers have to pay extra attention and hold on to the steering wheel tightly.
NCMS says that the weather will be hazy and partly cloudy in the country in general on Monday.
However, residents can expect relative humidity to increase over some internal and coastal areas with a chance of fog over some internal parts, especially the western areas.
On Tuesday, the sea will be very rough during daytime, becoming moderate by late night.
Fair to partly cloudy weather over some areas.
Winds will be moderate in general, freshening at times over the sea during Tuesday morning.
Relative humidity will increase over some internal & coastal areas with a chance of fog.

Follow Emirates 24|7 on Google News.