UN terms Madaya situation 'horrendous'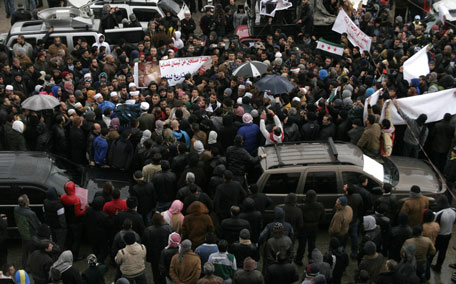 As the United Nations and its partners struggled Friday to gain humanitarian access to the Government-besieged Syrian city of Madaya, amid reports of people starving to death or being killed while trying to leave, UN officials called the situation 'horrendous, ghastly', and a 'potential war crime'.

"The situation in Madaya is ghastly. Deliberate starvation of civilians amounts to war crimes under the international human rights law and international humanitarian law, Office of the UN High Commissioner for Human Rights spokesperson Rupert Colville told a news briefing in Geneva.

Bashar Assad's forces were preventing aid from getting into Madaya, Rupert noted.

The United Nations and its partners also voiced concern at the 'very alarming situation' in other parts of Syria where five years of fighting have killed over 250,000 people, including tens of thousands of children, displaced more than half the population of 17 million, and left 4.5 million people in hard-to-reach areas, 400,000 of them under siege.

Friday was the second straight day that the UN has raised alarm over Madaya, where almost 42,000 people are at risk of starvation.

The international news organisation, The Christian Science Monitor, said broadcast images of emaciated children and tales of starving Syrians forced to eat grass and leaves in the besieged town of Madaya have provoked horror around the world.

In Lebanon, the images have fuelled criticism of Hezbollah. On Friday, demonstrations in support of the town and against the siege, it added.

At the same briefing in Geneva, UN High Commissioner for Refugees (UNHCR) spokesperson Adrian Edwards said negotiations on a humanitarian convoy to Madaya were continuing but no date had been set. His agency would send in non-food items for 40,000 people.

UN Children's Fund (UNICEF) spokesperson Christophe Boulierac, whose agency is also involved in planning the convoy, said half the 42,000 people in the town were children in need of urgent life-saving assistance.

Medecins Sans Frontieres (MSF) reports that six of 23 people who starved to death in Madaya in December were children.

The tragic situation of children in Madaya was an example of the dire situation of the 4.5 million people, over two million of them children, living in hard-to-reach and besieged areas, he said.

On Thursday, UN Humanitarian Coordinator in Syria Yacoub El Hillo and Regional Humanitarian Coordinator Kevin Kennedy issued a joint statement calling for unimpeded access to people in hard-to-reach and besieged areas, with only 10 per cent of all requests for UN inter-agency convoys to these areas approved and delivered in the past year.

According to the UN Office for the Coordination of Humanitarian Affairs (OCHA), a 53 year-old man reportedly died of starvation on Tuesday while his family of five continues to suffer from severe malnutrition.

Last month, the UN Security Council demanded that all parties, particularly the Government, immediately open routes across conflict lines and borders to let in vital aid.
Follow Emirates 24|7 on Google News.