Unrest across the Arab world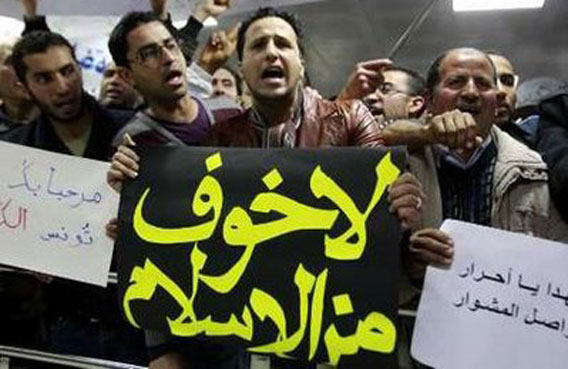 January 25 sees the start of unprecedented demonstrations against President Hosni Mubarak's regime, in power since 1981. At least 125 are killed in the unrest and thousands injured. A curfew is declared in the cities of Cairo, Alexandria and Suez. The protests are preceded by five people setting themselves on fire. One of them dies.
On Monday Mubarak unveils a new cabinet, firing widely hated interior minister Habib al-Adly, but otherwise keeping the lineup largely unchanged.
On Monday, the seventh day of the unrest, a sea of protesters floods downtown Cairo, vowing to bring down Mubarak's regime through an indefinite strike and million-strong marches are planned for Tuesday there and in Alexandria.
ALGERIA
Early in January, five days of protests against high prices result in five people dead and more than 800 injured. The government orders a cut in basic food prices and pledges to keep subsidising wheat, milk and electricity. On January 22 riot police break up a banned pro-democracy rally, leaving around 20 injured. On the 29th more than 10,000 protesters march against authorities in Algeria's northeastern city of Bejaia in the Berber-speaking Kabylie region. Three lethal self-immolations and 10 more such attempted suicides have been reported in Algeria since January 14.
JORDAN
Thousands of Jordanians take to the streets of Amman and other cities on January 14 in protest at soaring commodity prices, unemployment and poverty, calling for the sacking of the government. On the 28 thousands of Jordanians demonstrate peacefully in Amman and other cities after weekly prayers. On Saturday, dozens of Islamists and trade unionists stage a noisy protest outside the Egyptian embassy in Amman in support of "the people of Egypt".
SUDAN
A student beaten by police on Sunday during violent anti-government demonstrations in Khartoum dies overnight of his injuries. Demonstrations also take place in Khartoum's twin town of Omdurman and in Obeid, west of the capital. Widespread economic and political discontent in north Sudan has led to sporadic protests in recent weeks. At least 64 people have been arrested. At least person has died from self-immolation.
OMAN
Some 200 Omanis protest on January 17 against high prices and corruption, a rare phenomenon in the Gulf Arab monarchy.
MAURITANIA
Yacoub Ould Dahoud dies on January 22 after setting himself on fire in an anti-government protest because he is "unhappy with the political situation in the country and angry with the government."
MOROCCO
Three Moroccan men set themselves on fire on January 21 and another follows suit on the 25th. The authorities issue tenders to buy grain in order to avoid shortages.
YEMEN
Protests have spiralled since mid-January. On January 27 thousands of Yemenis demonstrate in Sanaa calling on President Ali Abdullah Saleh to depart after being in power since 1978. On the 29th dozens of activists clash with the regime's supporters in Sanaa. The government announces an increase in salaries. At least three attempted self-immolations and one death.
Follow Emirates 24|7 on Google News.