Unruly passenger aboard Hawaii flight prompted bomb scare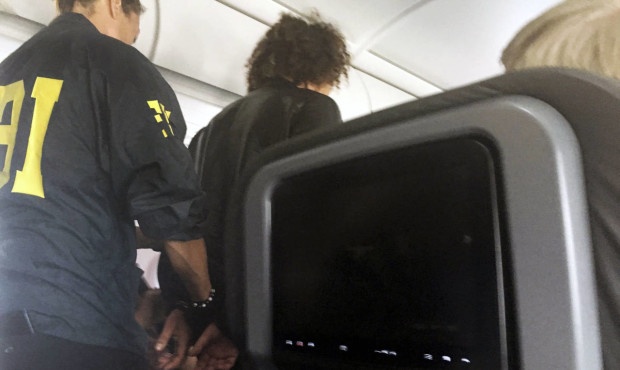 A Turkish man prompted a bomb scare aboard a weekend American Airlines flight from Los Angeles to Honolulu through a series of outbursts culminating in a desperate scuffle with crew members and fellow passengers, the FBI said in court documents filed on Monday.
The Federal Bureau of Investigation account of Saturday's disturbance was furnished in an affidavit supporting the criminal complaint against Anil Uskanli, 25, who was living in California under a temporary visa revoked after his arrest.
Uskanli, making his first court appearance since he was arrested at Honolulu International Airport, was ordered by a federal magistrate judge to undergo a psychiatric evaluation.
The proceedings against him will remain suspended until he is found mentally competent to stand trial, said Jill Otake, a spokeswoman for the U.S. Attorney's Office.
He was charged on Monday with a single count of interfering with a flight crew, an offense that carries a maximum sentence of 20 years in prison.
The FBI initially said the disturbance that Uskanli caused was serious enough for two U.S. warplanes to be scrambled to escort the passenger jet to Hawaii but provided few details of the incident until Monday.
Uskanli's brush with the law began at Los Angeles International Airport (LAX) hours before he boarded American Airlines Flight 31 without any baggage checked or any carry-on items, except for a laptop.
Authorities disclosed on Saturday that he was detained and cited for trespassing after entering a restricted area at LAX - an incident airport police attributed to disorientation from drinking.
But he was allowed through security screening again, and according to the FBI was brought to the plane in a wheelchair due to his impaired condition. An FBI affidavit describes a steady escalation of bizarre, disruptive behavior from there.
LOCKDOWN OF COCKPIT
Upon boarding Uskanli sat down in first class and only took his assigned seat at the rear of the plane after several requests. Once airborne, he was observed muttering to himself and repeatedly moving his laptop between the floor space at his feet and a seatback pouch.
In an outburst a short time later, Uskanli began yelling and pounding the lavatory walls when another passenger inadvertently walked in on him, prompting the plane's captain to lock down the cockpit.
Tensions flared anew when Uskanli, his head wrapped in a blanket, rose from his seat carrying his laptop and started walking toward the front of the plane.
In a bid to block him from the first-class cabin and cockpit, a flight attendant pushed a drink cart down the aisle then struggled to hold it in place, telling him, "you are not coming in here," as Uskanli pushed back.
Responding to her pleas for help, several passengers, including an off-duty police officer subdued Uskanli, and the officer kept him seated for the rest of the flight.
Still, crew members became worried his laptop might be a bomb, mindful of recent security bulletins identifying laptops as devices that extremists might use to smuggle explosives aboard planes.
The crew then initiated bomb-threat procedures, moving the laptop to the very back of the aircraft and packing material around it, as the pilot lowered the plane's altitude to 5,000 feet. It was then that the U.S. military was alerted and dispatched two F-22 warplanes to escort the airliner.
Ultimately, the plane landed safely, no one among the 187 passengers and crew was hurt and the laptop was found to be harmless.
Follow Emirates 24|7 on Google News.