US-Philippine Society to honour Inouye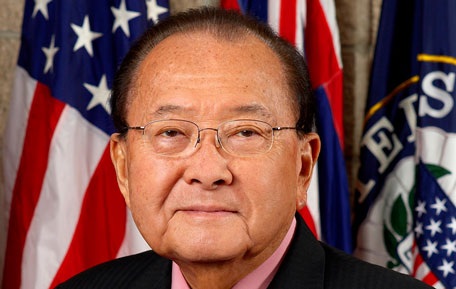 MANILA A Filipino-American non-profit organisation is set to bestow a posthumous award on Daniel Ken Inouye, Hawaii's senior United States senator who died at age 88 a week before Christmas, for his exemplary deeds for Filipino veterans and being a true friend of the Philippines.

Officials and members of the United States-Philippine Society (USPS), which has a tentative schedule for a courtesy call on President Benigno Aquino III at Malacañan Palace on Jan. 23, are set to hold their first business meeting in the Philippines the following day, where they will honour Inouye.

"We are still finalising the things pertaining to the posthumous award, but surely we will honour the late US senator," one USPS representative, who asked not to be named as he is not authorised to speak for the group, said. He was such a true friend to the Filipino community in Hawaii, and he'd done a lot of good things for the Philippines."

Inouye, who had worked out financial compensation for Filipino soldiers who served with the US Army in World War II, was a recipient of the Order of Sikatuna in 2011 and had previously been awarded the Order of Lakandula and a Philippine Republic Presidential Unit Citation. He had also given federal grants for the Filipino Community Center in Hawaii.

A national order of diplomatic merit in the Philippines, the Order of Sikatuna is conferred upon individuals—Filipinos or foreigners—who have rendered exceptional and meritorious services to the country. Among its recipients were the Filipino boxer and congressman Manny Pacquiao, US Secretary of State Hillary Clinton, United Nations Secretary General Ban Ki-moon, and Jaime Cardinal Sin, the late archbishop of Manila who fought against the Marcos dictatorship.

The Order of Lakandula is one of the highest honours given by the Philippines to Filipinos or foreign citizens who have exhibited the responsibilities of leadership, prudence, fortitude, and courage in the service of their people. The Presidential Citation, on the other hand, is the Philippines' unit decoration (military award) given to certain units of the US military for actions during and after the Second World War.

Launched in Washington, DC in June 2012 after its founding a month before, USPS aims to improve the profile of the Philippines in the US. Its members are composed mainly of American and Filipino diplomats, businessmen, politicians, lawyers, and other professionals.

Philippine Ambassador to Washington Jose Cuisia, Jr. earlier said that USPS would benefit the Philippines, as the country's growing economy would attract more investments from the US.

Inouye, son of Japanese immigrants, was born in Honolulu, and was elected to the US House of Representatives in 1959 when Hawaii became the 50th state of the union. He studied political science and became a lawyer after serving in the US Army, where he lost his right arm while leading an assault in Tuscany, Italy in 1945.

Follow Emirates 24|7 on Google News.