US 'Snowzilla': At least 33 dead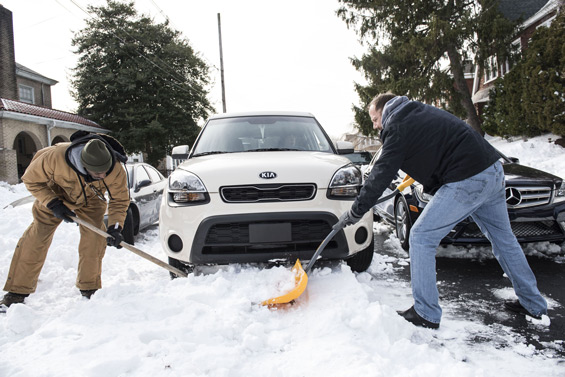 The US capital struggled to plow and shovel its way back to life Monday after a blizzard smothered the East Coast, with mountains of snow lining streets and schools and the federal government shut.
The storm was blamed for at least 33 deaths as it slammed a dozen states from Friday into early Sunday, many of them people who suffered heart attacks while shoveling, or killed on icy roads, though several died of carbon monoxide poisoning trying to keep warm in cars or homes.
Washington's subway and bus network, closed all weekend, resumed service Monday but on a very limited basis with trains running for free.
More accustomed to heavy snowfall, New York City seemed to bounce back more easily with schools in the Big Apple open and the mass transit system up and running for the most part.
But for many the thrill of a weekend spent playing in the snow, or in warm homes watching a stunning display of nature's power, gave way to the realization that, in Washington at least, the cleanup will be long and messy.
"From my estimation we got more snow than I have ever seen in Washington, DC," Mayor Muriel Bowser told CNN. "We are working hard to dig out all of our residential streets."
Under a sunny sky, the normally bustling avenues around the White House were all but deserted.
Heavy machinery equipped with powerful vacuums sucked at chest-high drifts of snow and spat it into 18-wheel trucks moving alongside at a snail's pace.
Dump trucks laden with increasingly dirty snow rumbled through the streets and crews in bright red shirts went at it with shovels. Everywhere, there was snow.
The few people out and about trudged through slush and ice and picked their way through drifts left by plows. Many restaurants, office buildings and stores remained closed.
Limited flight operations resumed from Washington's Reagan National and Dulles International airports, a day after officials battled in New York to get some aircraft off the ground.
More than 22 inches (56 centimeters) of snow paralyzed Washington, while the 26.8 inches that fell in New York's Central Park was the second-highest accumulation since records began in 1869.

Family tragedy
"We now know this blizzard came within .1 inch of being the biggest snowfall in history" in New York City, Mayor Bill de Blasio said. At one point, 2,500 snow plows were operating.
"We were getting as much as three inches in an hour. So this really was the big one," he added.
Near-record-breaking snowfall blanketed cities up and down the East Coast, with Philadelphia and Baltimore also on the receiving end of some of the worst that Mother Nature could fling at them.
Fatalities occurred in Arkansas, Delaware, the District of Columbia, Kentucky, Maryland, New York, New Jersey, North Carolina, Ohio, Pennsylvania, South Carolina, Tennessee and Virginia.
In Passaic, New Jersey, a 23-year-old and her one-year-old son died of carbon monoxide poisoning during the storm, while the family's three-year-old daughter was hospitalized in critical condition.
"The father was shoveling their car out and the wife and kids wanted to stay inside the car to keep warm," Detective Andrew White told AFP. "The car's exhaust pipe was covered and blocked with snowing causing carbon monoxide to enter the car."

Some 85 million residents in the storm's path were had been told to stay indoors for their own safety at the weekend, and hundreds of thousands were left without power, including nearly 150,000 outages in North Carolina alone, emergency officials said.

Dangerous roads
Beyond New York and Washington, New Jersey, Pennsylvania, Maryland and Virginia were the hardest-hit areas. A few locations surpassed one-day and two-day snow records, said the National Weather Service.
As the storm ended and temperatures rose, New York emerged from total shutdown and lifted a sweeping travel ban on Sunday.
Broadway resumed shows and museums reopened, as snow plows quickly cleared the main avenues and temperatures struggled up to a relatively balmy 37 degrees Fahrenheit (three Celsius), the same as in Washington.
But residents in the capital were bracing for the disruption to drag on for days, with the House of Representatives opting to remain out of session for the coming week and no votes set until February 1.
Much of the metro system's above-ground stretches remained closed and Washington schools were ordered shut again on Tuesday.
As night - and temperatures - fell, officials warned that icy roads would make for hazardous driving conditions.
Follow Emirates 24|7 on Google News.