US with terror victims 'from Pakistan to Paris'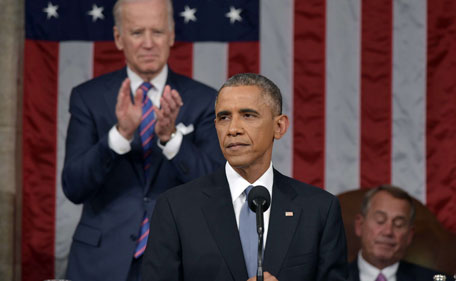 The United States stands side by side with the victims of terror around the world, President Barack Obama said Tuesday, as he also deplored a rise in anti-Semitism.
"We stand united with people around the world who've been targeted by terrorists - from a school in Pakistan to the streets of Paris," Obama said in his State of the Union address, just days after Islamist attacks in the French capital left 17 dead.
As he asked US lawmakers to give him updated war powers to use American military might to go after the Islamic State group, Obama vowed: "We will continue to hunt down terrorists and dismantle their networks."
But he stressed US officials "reserve the right to act unilaterally, as we've done relentlessly since I took office, to take out terrorists who pose a direct threat to us and our allies."
He also denounced that "deplorable anti-Semitism" was again being seen in places around the world.
But the US president also stressed "we continue to reject offensive stereotypes of Muslims - - the vast majority of whom share our commitment to peace."
Promising to stand up for and respect human dignity, Obama added: "That's why we defend free speech, and advocate for political prisoners, and condemn the persecution of women, or religious minorities, or people who are lesbian, gay, bisexual, or transgender."
"We do these things not only because they're right, but because they make us safer."
'Will not relent' in bid to close Guantanamo prison
US President Barack Obama on Tuesday pledged to make good on his promise to close the military prison at Guantanamo Bay, saying it was "time to finish the job."
Obama has made a renewed push in recent weeks to transfer inmates out of the remote prison, which is located at a US naval base in southeastern Cuba.
As of last week, after the transfer of five more detainees, 122 inmates remained at the facility in Guantanamo Bay, which was set up to hold terror suspects after the September 11, 2001 attacks.
"As Americans, we have a profound commitment to justice - so it makes no sense to spend three million dollars per prisoner to keep open a prison that the world condemns and terrorists use to recruit," Obama said in his State of the Union address.
"Since I've been president, we've worked responsibly to cut the population of Guantanamo in half. Now it's time to finish the job. And I will not relent in my determination to shut it down. It's not who we are."
Obama's efforts to shut the 13-year-old prison have been hampered by opposition in Congress and the difficulties involved in finding homes for prisoners who are often not welcome in their home states.
About half of those remaining at Guantanamo have been cleared for release, either to their home countries or third countries.
Many of the detainees are Yemenis. US authorities are reluctant to send them back to their home country amid security concerns, given the ongoing unrest.
Among those not cleared for release are about 10 "high-value detainees including self-proclaimed September 11 mastermind Khalid Sheikh Mohammed and his four co-defendants, who await a military trial.
Follow Emirates 24|7 on Google News.