Venezuela's Hugo Chavez dies from cancer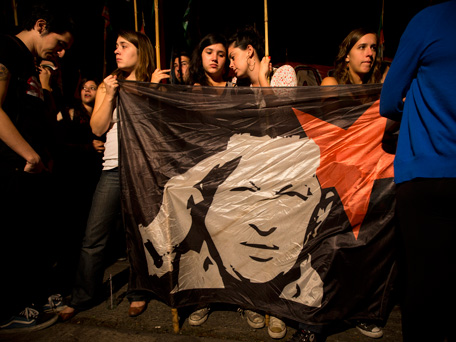 Venezuela's government announced the death of President Hugo Chavez on Tuesday, ending 14 years of charismatic rule by the firebrand socialist but leaving his party firmly in control of the nation.
Vice President Nicolas Maduro's voice broke several times and tears ran down his face as he appeared on national television to announce that Chavez died at 4:25 p.m. local time (3:55 p.m EST;1755 GMT) "after battling tough with an illness over nearly two years."
He did not say what exactly killed Chavez, although the government had announced the previous night that a new, severe respiratory infection had severely weakened him.
Just a few hours earlier, Maduro made a virulent speech against enemies he claimed were trying to undermine Venezuelan democracy.
But as he announced the death, Maduro called on Venezuelans to be "dignified inheritors of the giant man" Chavez was.
"Let there be no weakness, no violence. Let there be no hate. In our hearts there should only be one sentiment: Love. Love, peace and discipline."
Maduro called on Venezuelans to convene in the capital's Bolivar Square, named for the 19th century independence hero Simon Bolivar, who Chavez claimed as his chief inspiration.
The vice president also called on the opposition to respect "the people's pain."
"Those who never supported the comandante Hugo Chavez, respect the pain of the people. This is the moment to think of our families, of our country.
Chavez leaves behind a socialist political movement firmly in control of the nation, but with some doubt about how a new leadership will be formed.
Chavez's illness prevented him from taking the oath of office after he was re-elected to a new term on Oct. 7 and under the constitution, National Assembly chief Diosdado Cabello apparently would take over as interim president.
But there was no sign of Cabello on the podium as Maduro announced Chavez's death.
The constitution also says that elections should be called in 30 days. Chavez had specified that his supporters should support Maduro as his successor.
The man Chavez defeated in October, the youthful Miranda state Gov. Henrique Capriles, would be expected to represent the opposition.
Venezuela's defense minister also appeared on television to announce that the military will remain loyal to the constitution in the wake of Chavez's death.
Admiral Diego Molero appealed for "unity, tranquility and understanding" among Venezuelans.
The announcement stunned Venezuelans, if it did not surprise them.
"This is the worst thing that could have happened to our country," said 38-year-old soft drink seller Nelson Ramirez, who sympathized with the fallen president. "Without Chavez, I don't know what will happen here. We poor people could be forgotten again."
On the other side of Venezuela's political divide was Carlos Quijada, a 38-year-old economist who said he was sad that death rather than an election defeat had written Chavez's political obituary.
"Now there is a lot of uncertainty about what is going to happen," he said.
Earlier in the day, Maduro used a more belligerent tone as he announced the government had expelled two U.S. diplomats from the country and said "we have no doubt" that Chavez's cancer, which was first diagnosed in June 2011, was induced by "the historical enemies of our homeland."
He compared the situation to the death of the Palestinian leader Yasser Arafat, claiming Arafat was "inoculated with an illness."
Chavez's inner circle has long claimed the United States was behind a failed 2002 attempt to overthrow him, and he has frequently played the anti-American card to stir up support. Venezuela has been without a U.S. ambassador since July 2010.
Maduro has been taking on a larger role since Chavez urged Venezuelans to choose him as president before disappearing in early December to undergo a fourth round of cancer surgery in Cuba.
He accused U.S. Embassy's Air Force attache Col. David Delmonaco of spying on Venezuela's military and seeking to involve officers in "destabilizing projects." Maduro gave Delmonaco 24 hours to leave, and U.S. officials said he had already departed the country.
Maduro said Tuesday that the government was "on the trail of other elements that figure in this entire venomous scenario and are seeking to stir up trouble."
Later Tuesday, Foreign Minister Elias Jaua said a second U.S. Air Force attache was being expelled, also for alleged espionage.
"Let's remember that active participation of the United States in the fascist coup of 2002," Jaua said.
Chavez had neither been seen nor heard from, except for photos released in mid-February, since submitting to a fourth round of surgery in Cuba on Dec. 11 for an unspecified cancer in the pelvic area. It was first diagnosed in June 2011.
The government said Chavez returned home on Feb. 18 and has been confined to Caracas' military hospital ever since.
Maduro on Tuesday repeated government claims that Capriles met in the United States over the weekend with right-wing U.S. conspirators and was planning to meet over the weekend with Roberta Jacobsen, assistant U.S. secretary of state for the hemisphere.
One personality on state TV also accused the Capriles family of buying a New York City apartment with stolen funds.
Capriles responded via Twitter Tuesday by calling Maduro a liar.
"Lie after lie in every speech," he said.
The campaigning, though undeclared, has nevertheless already begun. Maduro has frequently commandeered all broadcast channels, Chavez-style, to tout the "revolution" and vilify the opposition.
Chavez has run Venezuela for more than 14 years as a virtual one-man show, gradually placing all state institutions under his personal control. But the former army paratroop commander, who rose to fame by launching a failed 1992 coup, never groomed a successor with his same kind of force of personality.
Maduro said last week that the president had begun receiving chemotherapy around the end of January.
Doctors have said such therapy is not necessarily to beat Chavez's cancer into remission, but could have been palliative, to extend Chavez's life and ease his suffering.
While in Cuba, Chavez suffered a severe respiratory infection in late December that nearly killed him, Maduro said last week.
Follow Emirates 24|7 on Google News.