Video: 2014 plane chaos... 2 emergency landings, 1 crash, 1 skid, 1 UFO!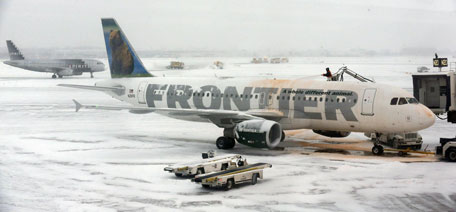 2014 has opened with several aviation scares.
At least one plane crash and three emergency landings so far. Several narrow escapes and sadly, even death and serious injury.
Here is a detailed look at all the incidents that have occurred since Sunday:
Plane lands on NY expressway

A small plane made an emergency landing on a highway in the Bronx borough of New York on Saturday, injuring three passengers, as the area battled a brutal cold snap.

The single-engine propeller plane landed around 3:20 pm (2020 GMT) in the Major Deegan Expressway's northbound lane near 233rd Street, the New York City Fire Department said on its Twitter feed.

The situation was "under control," it added, noting that no cars were affected and that there was no fire or fuel spilled. Firefighters removed the plane's fuel before moving it to avoid the risk of a blaze.

The passengers, two men and one woman, left the plane and were taken to St Barnabas Hospital with injuries that were not life-threatening, authorities said.

One had a serious injury and the other two suffered minor injuries.

"The plane was forced to make an emergency landing due to some sort of engine trouble," FDNY spokesman Khalid Baylor told AFP.

"The plane then made a landing onto the highway and did not damage any vehicles, did not cause any injuries to any people on the ground. The FDNY safely offloaded the jet fuel and the plane was removed from the highway."

He said Department of Transportation workers who happened to be on the scene doing some highway repair at the time noticed the plane coming in on landing and helped stop traffic with their rig.

Drivers experienced some major delays on the highway, which has three lanes on both sides.

A spokeswoman from New York's Office of Emergency Management said the plane had departed from Danbury, Connecticut for a tour around the Statue of Liberty.

The plane was a 1966 Piper PA-28-180, according to Federal Aviation Administration records.


Saudi jet makes urgent landing

Saudi Arabian Airlines jet made an emergency landing in Muslim holy city of Medinah in the west of the kingdom on Sunday, injuring 29 people, an aviation authority spokesman said.

The Saudia aircraft was travelling from Iran's second city of Mashhad with 315 passengers on board, General Authority of Civil Aviation spokesman Khalid Al Khaybari told AFP.

Of the 29 people injured, 11 were taken to hospital, while the rest were treated at the airport's medical centre, he said.

Khaybari did not elaborate on the type of aircraft or the cause of the emergency landing.

Footage posted online showed a plane landing apparently without its rear landing gear down and leaving a trail of flame along the runway.

Video: 29 hurt as Saudi jet makes urgent landing

Plane crashes at Aspen airport
Emergency crews are responding to a fiery plane crash at Aspen Airport in western Colorado.

Thomas Wright, a dispatcher with the Pitkin County Sheriff's Office, confirmed the plane crashed Sunday afternoon but said he could not release any more details until a spokesman is contacted.

The size of the plane was not immediately clear. Nor was it clear how many people were on board.

Attempts by The Associated Press to reach an airport spokesman were unsuccessful.

Aspen, nestled in the Rocky Mountains, is about 100 miles (160 kilometer) southwest of Denver.

Plane skids into snow at JFK
A Delta jet skidded into the snow at John F Kennedy International airport shortly after landing, the Federal Aviation Administration said.

There were no immediate reports of injuries, but flights at the New York airport were halted for several hours due to icy conditions. They resumed late Sunday morning.

The Delta Connection 4100 flight originating from Toronto's Pearson International Airport landed safely at JFK shortly before 8 am and was exiting the runway onto a taxiway when it slid into the snow, the FAA said. According to ABC News, there were 35 people on board.

The plane, a CRJ-200, is operated by Endeavor Air.

The incident comes a day after a single-engine plane made an emergency landing on the Major Deegan Expressway in the Bronx. No one was seriously injured in that incident.
Pilot forced to duck after seeing UFO
A pilot claims to have seen a "rugby ball"-shaped UFO which almost hit the aircraft while flying near Heathrow Airport, The Telegraph reported.

The pilot claimed that the object passed within a few feet of his passenger jet which forced him to duck

Aviation authorities have investigated the matter but have been unsuccessful in establishing any earthly identity for the mysterious craft

However, they will observe it closely in order to insure safety of the passengers.

The A320 Airbus was cruising at 34,000ft, around 20 miles west of the airport.
Fighter jet with 3D-printed parts completes flight
A Tornado fighter jet fitted with metal components created on a 3D printer undertook a successful test flight in Britain last month, defence company BAE Systems said Sunday.

The plane was equipped with a 3D-printed protective cover for the cockpit radio, a protective guard in the landing gear and support struts on the air intake door, the British firm said.

The announcement follows NASA's successful test of a 3D-printed rocket engine component in August last year, as aerospace companies seek cheaper and quicker ways to manufacture engineering parts.

"You are suddenly not fixed in terms of where you have to manufacture these things," said Mike Murray, Head of Airframe Integration at BAE Systems, announcing the successful test flight at the firm's airfield in Warton, northwest England.

"You can manufacture the products and whatever base you want, providing you can get a machine there, which means you can also start to support other platforms such as ships and aircraft carriers.

"And if it's feasible to get machines out on the front line, it also gives improved capability where we wouldn't traditionally have any manufacturing support."

BAE said some of the parts -- produced at a Royal Air Force base in eastern England -- cost less than £100 ($165, 120 euros) to manufacture, and had the potential to save hundreds of thousands of pounds every year, without giving details.

Follow Emirates 24|7 on Google News.