Visitors flock to UAE Pavilion at Expo Milano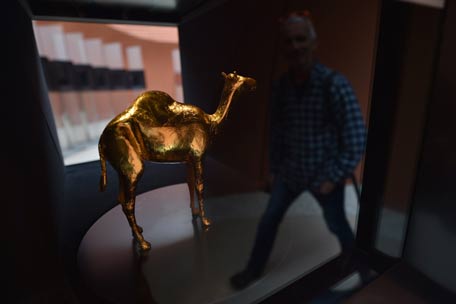 Visitors flocked to the UAE Pavilion at Expo Milano 2015 to get an insight into the UAE's rich culture and history for the third day running since it was opened on Friday.
Visitors, including students, enjoyed the short film 'Family Tree,' which follows a young girl, Sara, as she learns that values and experiences of past generations can help in the quest for a sustainable future.
People visit the pavilion of United Arab Emirates at the Universal Exposition, EXPO2015, in Milan. (AP)
The mini-drama highlights the scarcity of water and celebrates the role of date palm in sustaining life in the Emirates during difficult times. This very special tree provides a window to traditional life in the 1960s and reveals the astonishing development that has taken place in the UAE in a little over 40 years.
Dietmar Schmitz, Commissioner-General of German Pavilion at Expo Milano, also visited the UAE Pavilion and was welcomed by Salem Al Ameri, Commissioner-General and Deputy Director-General of the National Media Council (NMC), which is organising the pavilion, and Mubarak Al Dhaheri, manager of the Pavilion, who took him on a tour of the Pavilion.
The German official was briefed on the UAE's vision for participating in the international gathering and then watched 'Family Tree' and another documentary on Expo Dubai 2020.
The German Commissioner expressed his admiration at the contents and themes of the UAE Pavilion, which he said present the UAE's heritage, culture and achievements and its vision for sustainable development.
Follow Emirates 24|7 on Google News.