Wall collapse kills 24 at Indian wedding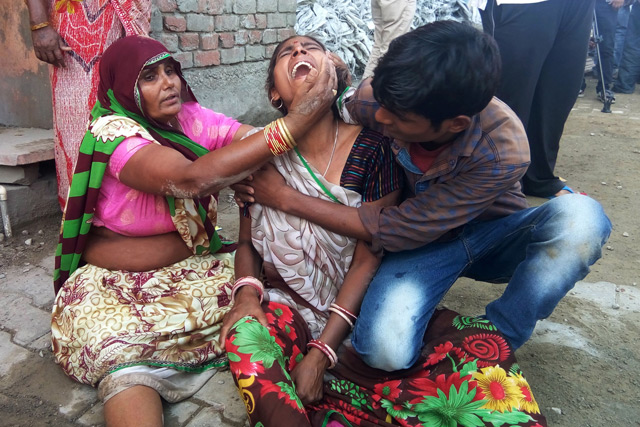 A wall crashed down on an Indian wedding party during a storm killing at least 24 people including four children and injuring many more, police said Thursday.
The concrete wall fell on guests who had taken shelter from violent rain in a tin shack on Wednesday night, police superintendent Anil Tank told AFP.
"We worked through the night," one rescue worker at the scene in Bharatpur, Rajasthan state, told India TV news network.
"We tried to rescue as many people as possible, the scene was horrific," the rescuer added.
"The wall and a tin shed attached to it at the marriage venue collapsed due to a storm," said Tank, a senior officer in Bharatpur.
He said 26 people were injured, 15 of them seriously. TV footage showed anxious relatives standing next to hospital beds.
The wall was about 13 feet (four metres) high and 90 feet (27 metres) long.
Police launched an investigation, detaining a wedding hall manager for causing death by negligence.
"We have registered a case and taken one of the managers of the banquet hall into custody," district magistrate Narendra Kumar Gupta told reporters.
"We will investigate if the hall owners had a valid licence. In case they did not have a licence, appropriate action will be taken against them."
Gupta also announced compensation of 50,000 rupees ($775) for the family of each person killed.
The Press Trust of India news agency said there were food stalls set up along the wall for the wedding.
State Chief Minister Vasundhara Raje said she was devastated by the tragedy and instructed the state authorities to extend whatever help possible to the victims' families.
Rajasthan is one of India's most arid states, but suffers frequent dust and rain storms during the hotter months.
A heatwave has swept across much of India in recent weeks, with temperatures reaching 44 degrees Celsius (111 degrees Fahrenheit) in the capital Delhi.
Building collapses are common in India, especially during the annual monsoon season.
A massive influx of people to cities in search of jobs and a shortage of low cost housing have fuelled the construction of illegal buildings across the country, often with sub-standard material.
Follow Emirates 24|7 on Google News.